Oct. 12: The Nuggets have officially signed Harris to the reported four-year contract extension, the team announced on its website.
Oct. 7: Nuggets guard Gary Harris will sign a four-year, $84MM extension with the team, according to Adrian Wojnarowski of ESPN. Wojnarowski reports that the deal will feature $74MM in guaranteed money, with an additional $10MM available in incentives and bonuses.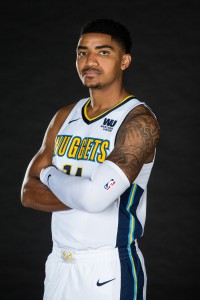 Harris had an October 16 deadline to reach an agreement on the extension or he would have been a restricted free agent next summer. The 23-year-old shooting guard will make a little more than $2.5MM this year, so he is looking at a nice raise when the extension kicks in for 2018/19. He will rank among the 10 highest-paid shooting guards in the league, posts Bobby Marks on ESPN Now.
The extension could give Denver as much as $113MM in guaranteed salary for next season, Marks tweets, raising potential tax concerns if Wilson Chandler ($12.8MM) and Darrell Arthur ($7.46MM) both opt in.
The 19th player taken in the 2014 draft, Harris won a starting job in his second season and has developed into a valuable member of a young Denver team. He averaged a career-best 14.9 points per game last year and shot 42% from 3-point range, although early-season injuries limited him to 57 games.
The Nuggets are also hoping to reach an extension with reserve guard Will Barton, but his deadline isn't until next summer because he isn't on a rookie contract.
Photo courtesy of USA Today Sports Images.