Oct. 22: The Pels have officially signed Nelson, the team announced in a press release.
Oct. 21: The Pelicans have reached an agreement on a one-year deal with free agent point guard Jameer Nelson, reports Shams Charania of The Vertical. Nelson was on the open market for less than 24 hours, having cleared waivers on Friday evening after being cut this week by the Nuggets.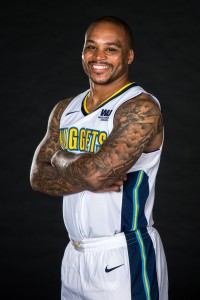 Nelson, 35, has 13 years of NBA experience under his belt, with stints in Orlando, Dallas, Boston, and Denver. Most recently, he appeared in 148 games over the last two and a half seasons for the Nuggets, providing some stability at the point guard position as the club looked to incorporate youngsters Emmanuel Mudiay and Jamal Murray.
After struggling in 2015/16, Nelson bounced back last season, averaging 9.2 PPG and 5.1 APG in 75 games (39 starts) for the Nuggets. However, with Denver intent on adding Richard Jefferson this week, Nelson was the odd man out when the club needed to open up a roster spot.
Upon clearing waivers, Nelson reportedly drew interest from the Rockets, Nets, and Hornets in addition to the Pelicans. All four of those clubs are dealing with injuries at the point guard spot. In New Orleans' case, it's Rajon Rondo on the shelf, recovering from sports hernia surgery.
Rondo is expected to return to the court next month, but Nelson may remain in the Pelicans' rotation at that point. Adrian Wojnarowski of ESPN reported earlier today that the veteran point guard was seeking an opportunity where he'd have a chance to play a significant role, so presumably New Orleans doesn't just view him as an interim solution.
The Pelicans don't currently have an open spot on their roster, so they'll need to trade or waive a player if they intend to finalize Nelson's deal right away. If New Orleans waits until after its third game, the team would become eligible for a hardship exception and would be granted a 16th roster spot to sign Nelson without cutting anyone.
Hardship exceptions are awarded to clubs carrying at least four players who have missed three or more consecutive games due to injury or illness. Rondo, Alexis Ajinca, Frank Jackson, Omer Asik, and Solomon Hill will all fit that bill for the Pelicans.
Meanwhile, it's also worth keeping an eye on the tax line and the hard cap for the Pelicans. Adding Nelson on a fully guaranteed deal without waiving anyone would take New Orleans into the tax and move the team dangerously close to its hard cap.
Photo courtesy of USA Today Sports Images.