OCTOBER 16th, 11:07pm: The signing is official, per team release.
4:11pm: Charania clarifies in his full report on the trade that Aldridge's extension will actually add just two years to his current deal, with the 2018/19 player option representing the third year. In total, Aldridge will be under contract for four years, with a partial guarantee in year four.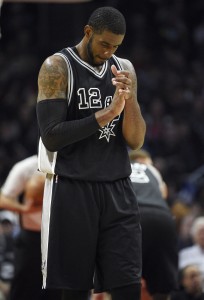 3:26pm: The Spurs have reached an agreement with big man LaMarcus Aldridge on a contract extension, according to ESPN's Adrian Wojnarowski (via Twitter). Wojnarowski first reported earlier today that the two sides were engaged in discussions on a possible extension.
Aldridge's new contract is a three-year extension worth $72.3MM, according to Shams Charania of The Vertical (Twitter link). Wojnarowski adds (via Twitter) that the third and final year is only partially guaranteed. The 32-year-old exercised his 2018/19 player option as part of the agreement, per Wojnarowski (via Twitter), so the new deal will begin in 2019/20 and will lock him up for five years in total.
Aldridge, who initially joined the Spurs as a free agent in the summer of 2015, saw his production drop off a little last season. His 17.3 PPG, 7.3 RPG, and .477 FG% were all below his career averages, while his 18.6 PER was his lowest mark since 2009/10.
The dip in Aldridge's performance makes the timing of the contract extension somewhat surprising. Wojnarowski noted in his piece earlier today that the relationship between Aldridge and the Spurs has been rocky over the last two years — both sides have been unhappy at times, and the team explored trade scenarios involving the former Blazer earlier this year.
However, according to Wojnarowski, Aldridge arrived at camp this year in better shape than usual, and has strengthened his relationship with Spurs head coach Gregg Popovich.
With Aldridge's player option for 2018/19 now locked in, the Spurs have approximately $78.4MM in guaranteed money on their cap for next season. With the NBA salary cap projected to increase slightly to $101MM, the Spurs could have some flexibility. But their estimated team salary doesn't include player options for Danny Green, Rudy Gay, and Joffrey Lauvergne, or possible new deals for free-agents-to-be like Tony Parker and Kyle Anderson.
Because Aldridge's new contract exceeds the parameters of an extend-and-trade deal, he won't be eligible to be traded for six months after signing his extension, meaning he won't be the subject of trade rumors at this season's deadline.
Photo courtesy of USA Today Sports Images.