The Grizzlies are in an interesting place as a franchise and how they fare over the course of the next few seasons will have an impact on the team's lasting legacy.
With $160MM tied up in franchise cornerstones Marc Gasol (32 years old) and Mike Conley (30), the good-but-not-exactly-great club has little choice but to keep retooling its rotation with low-cost players capable of possibly contributing to a second-tier Western Conference squad. More importantly, the Grizzlies have to be ready to promptly move on if those experiments don't pan out.
Memphis isn't expected to have any cap space next season, so any progress or roster development will have to come from within. Here's a look at the team's players who will hit free agency this summer and which way their value is trending.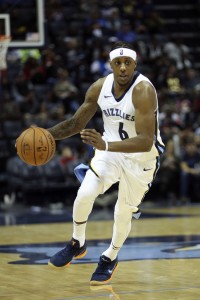 Mario Chalmers, PG, 32 (Up) – Signed to 1-year, $2.1MM deal in 2017
The Grizz brought Chalmers back on board after waiving him in the spring of 2016. After spending last season out of the NBA altogether recovering from an Achilles injury, the former Heat punching bag has stepped into a role as a backup point guard and spot starter. Chalmers lacks the ceiling of a younger prospect and doesn't contribute consistently enough to qualify as a reliable go-to bench option, so don't expect any teams to offer big money. Still, that doesn't mean he's not capable of landing slightly more than the veteran's-minimum contract he signed for last summer. If he stays healthy, Chalmers could find other suitors around the league. But with little reliable point guard depth under contract, the Grizzlies may be among those most eager to sign him.
James Ennis, SF, 28 (Down) – Signed to 2-year, $5.9MM deal in 2016
Memphis isn't afraid to give Ennis a sizable workload, as evidenced by the 23.5 minutes per game he saw last year (which has risen to 26.5 so far in 2017/18), but the small forward isn't particularly effective with that time on the court. With so many other swingmen on the roster, three of whom were signed just last summer, it doesn't make much sense for the Grizzlies to commit long-term to the gritty veteran.
Tyreke Evans, SG/SF, 28 (Up) – Signed to 1-year, $3.3MM deal in 2017
The Grizzlies got one of the biggest bargains of the summer when they signed Evans with their bi-annual exception. The biggest issue with Evans, however, is health — he played just 65 games over the course of the previous two seasons. That said, Evans has shown no signs of lingering ailments so far this season and has averaged a head-turning 17.9 points, 5.2 rebounds and 3.6 assists per game in just 28.2 minutes per contest. If Evans keeps up his trademark versatile play for a full season, he'll yield plenty more on the open market than what Memphis will be able to cover with his Non-Bird rights.
Brandan Wright, PF/C, 30 (Down) – Signed to 3-year, $17.2MM deal in 2015
Having played in just 40 games over the course of the past two seasons – and having been traded twice mid-season the year before that – it's hard to know what to expect out of Wright. While the big man was once a surprisingly productive reserve, he suddenly qualifies as a 30-year-old journeyman who has made six forgettable stops over the course of 10 NBA seasons. Wright has done an admirable job trying to fill holes in Memphis' depleted 2017/18 rotation, averaging 13.8 points, 9.0 rebounds and 2.8 blocks per 36 minutes, but given his spotty track record, don't expect him to net more than the veteran's minimum next summer.
Player ages as of July 1, 2018. Photo courtesy of USA Today Sports Images.