A handful of players eligible for rookie scale extensions during the 2017 offseason signed new deals, with the Timberwolves, Sixers, Nuggets, and Suns locking up Andrew Wiggins, Joel Embiid, Gary Harris, and T.J. Warren, respectively. However, that modest, four-player group made 2017 the least eventful year for rookie scale extensions since 2003, putting most of the players who had been extension-eligible on track to become restricted free agents in 2018.
Restricted free agency can be trickier to navigate than unrestricted free agency, which allows a team to sign a player outright. A team with a restricted free agent has the ability to match any offer sheet that player signs, but that doesn't mean retaining him is a lock — the Hawks, for instance, were unwilling to match what they viewed as an excessive offer sheet for Tim Hardaway Jr. from the Knicks this past offseason.
While restricted free agency can be a boon for certain players, such as Hardaway and Otto Porter, who received larger deals than they might have as UFAs, it can diminish the market for other players. Guys like Nerlens Noel, Alex Len, JaMychal Green, and Nikola Mirotic were on the RFA market for months this offseason and eventually either signed their qualifying offers or accepted short-term deals. Prying a restricted free agent away from another club often requires an aggressive – and perhaps overpriced – offer sheet. Sometimes, there's just no team out there willing to make that sort of offer for an RFA, which significantly reduces his leverage.
Today, we're taking a look at a handful of players set to reach the restricted free agent market in 2018 who shouldn't have to worry about being stuck in limbo for months and then settling for a below-market deal. We expect free agency for these five RFAs-to-be to play out more like it did for Porter or Hardaway than for Noel or Len.
Here are our current picks for the top five restricted free agents for 2018: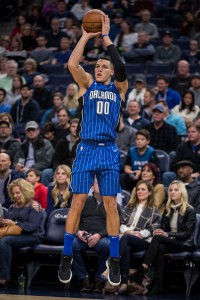 Photo courtesy of USA Today Sports Images.