After navigating the drama of last season and coming out in a solid position, the Bulls will need to do everything they can to keep the momentum of their rebuild rolling.
The club has shown glimpses of being a competent squad at times this season, with a number of intriguing assets already on the roster. However, nobody would bat an eye if the Bulls end up bottoming out with a solid pick in the lottery.
Much of Chicago's long-term success will come down to the eventual growth of players like Lauri Markkanen and Kris Dunn, but don't think that the forthcoming free agency period won't represent its own opportunities for progress.
Zach LaVine, SG, 23 (Up) – Signed to a four-year, $9.6MM deal in 2014
It's hard to believe that LaVine is still so young considering how long he's been in the league. This summer he'll hit the market as a restricted free agent following a torn ACL that sidelined him for parts of each of the past two seasons. That's good news and bad news for Chicago. Like the rest of us, the Bulls are intrigued by LaVine's ceiling and an abbreviated campaign isn't enough to base such an important long-term decision on. That said, other teams will have even less to base a substantial offer on. Given the uncertainty around his health and even his ability to be a primary offensive weapon, it's hard to imagine the Bulls offering a max contract but they've got enough cap flexibility to make him their highest-paid player in 2018/19 and beyond, assuming they like what they see out of him down the stretch.
Nikola Mirotic, PF, 27 (Up) – Signed to a two-year, $25MM deal in 2017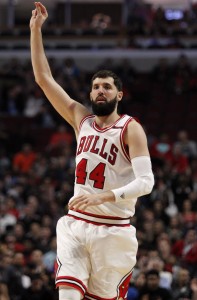 It's hard to imagine that Mirotic will still be in a Bulls uniform come next summer considering that earlier today it seemed all but certain he would be traded to the Pelicans. Nonetheless, Mirotic's contract situation will be similar wherever he lands up — his $12.5MM team option for 2018/19 is a bargain. Mirotic has shown that he's capable of having a major impact on his ball club and any team that brings him on ahead of the February 8 trade deadline would be wise to lock him in at the discount. The open-ended contract buffs his value as a trade chip for Chicago but at the end of the day he's a stretch four with no major red flags. That's worth $12.5MM.
David Nwaba, SG, 25 (Up) – Signed to a two-year, $1.4MM deal in 2017
The Bulls are rebuilding their roster from the ground up, so players like Nwaba hold appeal even if they don't necessarily scream team cornerstone. Nwaba is a respected perimeter defender that gels well with other, more offensively inclined weapons on the roster. There may be a few teams interested in poaching him for the intangibles that he brings to the court, just as Jonathon Simmons had suitors last summer, but a dearth of league-wide cap space may keep things in check. My guess is that the Bulls would be happy to cut Nwaba a check similar to Simmons' (~$6MM per) so long as it's on a short-term deal.
Quincy Pondexter, SF, 30 (Down) – Signed to a four-year, $14MM deal in 2014
It's impressive enough that Pondexter is back on the court after his years-long battle with injuries and illness. This year, his first with the Bulls after coming over in a salary clearing trade from the Pelicans, is the last of a four-year contract extension that's basically felt like 12. It's hard to envision Pondexter back in Chicago once the deal expires, but he could stick around the league if he can prove to other teams that he's healthy enough to play the role of veteran gunner. He's certainly earned the opportunity, at least.
Photo courtesy of USA Today Sports Images.