The Suns have salvaged what initially looked like a lost season and that has done wonders for their direction heading forward. While nobody is going to confuse interim coach Jay Triano's team of upstarts for a contender in the making just yet, the new regime immediately changed the culture of the young organization.
Whether or not Triano remains at the helm, the Suns are in an enviable position with a lengthy list of promising prospects that Triano has helped develop. As a result, Phoenix is a semi-intriguing free agency destination that will, conveniently, have boat loads of cap space to boot.
While it may not seem like much yet, the Suns are slowly building toward something. A summer of shrewd, responsible decisions could put them in an even better position for the future.
Isaiah Canaan, PG, 27 (Up) – Signed to a one-year, $1.1MM deal in 2017
Canaan has bounced around over the course of a five-year NBA career and may have found himself a home in Phoenix. The point guard immediately usurped Mike James as the club's primary backup point guard, and his skills as a volume scorer off the bench have come in handy. Even if Brandon Knight figures to factor into the club's 2018/19 point guard rotation, there will be plenty of room for Canaan to slot in somewhere as a functional combo option. Expect him back at a reasonable price.
Alex Len, C, 25 (Up) – Signed to a one-year, $4.2MM deal in 2017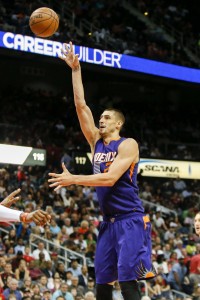 It's hard to know what the Suns truly think of Len as a low-post building block. This year, with over $30MM tied up in between Greg Monroe and Tyson Chandler, it's a wonder Len even makes his way onto the court at all. Despite the logjam, and a head coach that seems genuinely intent on getting the most out of his roster, Len has earned a consistent reserve role and has been modestly productive in it. Len signed a qualifying offer last summer which will make him an unrestricted free agent. There may not be a long list of suitors willing to bid for his services in the summer, but don't be surprised if another team looks to poach him considering his upside.
Greg Monroe, C, 28 (Down) – Signed to a three-year, $50MM deal in 2015
There has been no player whose value has been impacted by the dawn of the small ball era more than Monroe. The lumbering big man has gone from being a revered young beast with the Pistons in 2011 to a stalwart reserve for the Bucks in 2015 to a barely playable expiring contract on the Suns in 2017. When the monster deal he inked with Milwaukee three years ago is officially off the books though, common sense will prevail and he'll sign with a contender for dirt cheap and punish your favorite team in the playoffs. It doesn't make sense to build an NBA team around a heavyweight in 2018, but that doesn't mean those players can't still be effective in select situations.
Photo courtesy of USA Today Sports Images.