The Kings have known they'll be mired in a years-long rebuild for a while now — and it's not the fun kind of rebuild in which they can flaunt the potential of their youngsters while showing glimpses of hypothetical future greatness.
Unfortunately, the team sits tied for last in the Western Conference despite some forgettable campaigns from their rookies and sophomores, three of their regular starters coming in north of 30 years old and their most productive of the bunch being a 17-year veteran.
Don't expect a major depth chart overhaul next summer when the team hits free agency. The club's hands are somewhat tied in terms of roster flexibility, leaving the Kings little choice but to wait on the development of their in-house assets.
Vince Carter, SF, 41 (Down) – Signed to a one-year, $8MM deal in 2017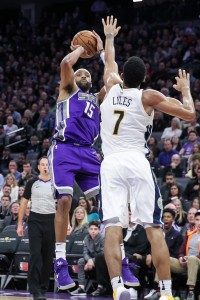 The Kings threw a pile of money at Carter last summer to clog their depth chart and offer the occasional nugget of sage advice to the youth around him. By all accounts, they've gotten just what anyone might have expected. While it's admirable that the former All-Star is still capable of dropping 20-plus points and dragging his team to random unexpected victories, such performances are of little consequence to a franchise that should be focusing on getting more out of its prospects. Carter supposedly remains intent on playing in 2018/19, but it's rather anticlimactic to picture his 21st season coming in Sacramento.
Kosta Koufos, C, 29 (Down) – Signed to a four-year, $33MM deal in 2015
Koufos, a moderately efficient career backup, finessed a substantial long-term contract out of the Kings back in 2015, but few players have seen the value of their skillsets deflate more than Koufos. Suddenly a nine-year veteran, Koufos would be wise to accept his player option for $8.4MM.
Garrett Temple, SG, 32 (Up) – Signed to a three-year, $24MM deal in 2016
Temple has carved out a role for himself as a versatile veteran swingman. This is the type of vet that the Kings should be committing to rather than paying top dollar for novelty greybeards. The market will be squeezed next summer, so expect Temple back on board for his $8MM player option. Still, if next offseason's economy looks similar to last year's, he could benefit from testing the waters.
Photo courtesy of USA Today Sports Images.