Last summer, the Raptors made the decision to commit to the core that powered them to four consecutive playoff berths. As a result, the organization is somewhat financially handcuffed for the foreseeable future.
Given such financial constraints – the team already has $126MM on its books for 2018/19 – Toronto will need continue to rely heavily on the starters that the roster has been built around.
That said, a conscious decision to speed up the game has helped the team show signs of growth in other areas, and in addition to an impressive starting five, the Raps suddenly boast one of the more intriguing second units in the league.
While many of Toronto's key rotation players are under team control through 2018/19 and beyond, not all of them are, and retaining each and every one of them may prove difficult.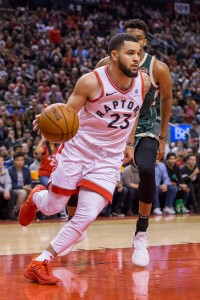 Fred VanVleet, PG, 24 (Up) – Signed to a two-year, $1.8MM deal in 2016
The undrafted guard out of Wichita State has proved to be one of the driving factors behind Toronto's impressive second unit. His ability to handle the offense and knock down threes has helped facilitate the Raps' transition from an iso-heavy squad to one that swings the ball and gets everybody involved. While VanVleet may have been the team's No. 3 point guard to start the season, early returns from 2017/18 show that there is plenty of room in the rotation for both VanVleet and Delon Wright. For tax reasons, don't expect the Raps to break the bank for the restricted free agent, but it's a safe bet that the sharpshooter will land a bigger deal than his first NBA contract. Even if that doesn't happen in Toronto.
Bruno Caboclo, SF, 22 (Down) – Signed to a four-year, $7MM deal in 2014
Toronto's famously raw project hasn't quite shown the growth that members of the team's front office hoped they'd see when they inexplicably drafted him with their 2014 first-round pick. Caboclo remains as tantalizing a physical prospect as any, but hasn't even reached a point where he can thrive in the G League on a consistent basis. There may still be some glimmer of promise in the 22-year-old out of Brazil, but again, the Raps may not want to venture further into luxury tax territory to chase it.
Lucas Nogueira, C, 25 (Up) – Signed to a four-year, $8.5MM deal in 2014
While he may have a ceiling as a high-energy reserve, Nogueira's length and athleticism can be a plus for team's looking to add cheap frontcourt depth. Nogueira will be a restricted free agent in the summer and could well find a team interested in taking a flyer on him. In that scenario, it won't be hard for opposing teams to outbid the Raptors, especially considering that they've had success with Jakob Poeltl serving as the team's primary backup big.
Photo courtesy of USA Today Sports Images.