1:40pm: In his full report on the story, Wojnarowski suggests that Mirotic's 2018/19 option is the primary source of the stalemate. Mirotic appears unwilling to sign off on the deal if his option isn't exercised, and the Pelicans are reluctant to commit to that option due to concerns about next season's payroll.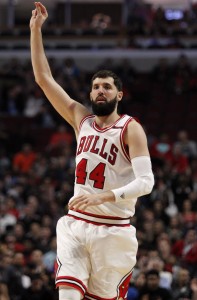 12:59pm: Goodwill classifies the trade as having hit a "snag," while Johnson says the two teams remain in "advanced discussions" (Twitter links). So while nothing is officially done yet, it sounds like the deal isn't dead either.
12:48pm: The Pelicans and Bulls had a deal in place for Mirotic, but it has fallen apart for now, reports ESPN's Adrian Wojnarowski (via Twitter). ESPN's Bobby Marks notes (via Twitter) that the Pelicans' proximity to a hard cap prevented the team from trading Asik straight up for Mirotic.
If the Pelicans include another player for cap purposes, the deal could still happen, tweets K.C. Johnson of The Chicago Tribune. However, New Orleans hadn't yet agreed to pick up Mirotic's team option, so a trade would also require his OK, assuming the Pelicans don't relent and agree to exercise that option.
12:40pm: The Pelicans and Bulls have reached an agreement on a trade that would send power forward Nikola Mirotic to New Orleans, according to Vincent Goodwill of NBC Sports Chicago (Twitter link). Goodwill reports that the Bulls will receive Omer Asik and a first-round pick in exchange for Mirotic.
There have been no further reports or official announcements confirming the move so far, but it's possible the two teams are working out details related to Mirotic's contract. His deal gives him the ability to veto trades unless his 2018/19 team option is exercised, though there was a belief that he'd give his approval to a deal if the Bulls found an offer they liked.
Mirotic, who has been the subject of trade rumors throughout the 2017/18 campaign, was sidelined with facial injuries to start the season after being punched by teammate Bobby Portis during an altercation in practice. Mirotic's camp reportedly issued an ultimatum in the fall in an effort to get the Bulls to trade either Mirotic or Portis, but the power forwards were willing to bury the hatchet and coexist on the court when Mirotic got healthy.
Since returning to action, Mirotic has enjoyed the most productive year of his NBA career, averaging 16.8 PPG and 6.4 RPG to go along with a .474/.429/.823 shooting line. All of those numbers are career highs. Despite his solid play and the club's improved record, Mirotic was still said to prefer a trade out of Chicago.
As the Bulls explored the market for Mirotic, the Jazz and Pistons were cited most frequently as potential trade partners. However, Detroit landed a bigger fish on Monday, acquiring Blake Griffin from the Clippers, and Utah was reportedly unwilling to include a first-round pick in an offer for the stretch four.
The Bulls, who were said to be seeking a first-rounder for Mirotic all along, appear poised to get that pick from the Pelicans, though they'll have to take on an unwanted contract in the process. Asik, a former Bull, is earning about $10.6MM this season, with a guaranteed salary worth $11.29MM in 2018/19. The veteran center has one more year on his deal in 2019/20, but it's only partially guaranteed for $3MM. By comparison, Mirotic will earn $12.5MM this season and has a $12.5MM team option for '18/19.
While the Bulls did well to find a first-round pick for a player whose value looked to be on the decline just a few months ago, it's worth questioning why the team is willing to take on a toxic contract like Asik's to make it happen, just seven months after selling a high second-round pick to the Warriors for a mere $3.5MM.
As for the Pelicans, they're set to fill the lineup hole created when DeMarcus Cousins went down on Friday with a season-ending Achilles injury. The move signals that New Orleans still fully intends to make a playoff push this season, pairing Mirotic with Anthony Davis in the frontcourt. The club will also have the financial flexibility to retain Mirotic on his team option next season, since it'll only cost about $1.2MM than Asik's guaranteed salary would have. The ability to retain Mirotic is solid insurance in the event that Cousins leaves in free agency — if Cousins re-signs, it'd be interesting to see if the Pelicans would want to carry all three players on next year's roster.
Photo courtesy of USA Today Sports Images.