For the first time in over a decade, the Bucks have an enviable core with an ambitious ceiling. That they're on track for a second consecutive playoff berth with one of the game's hottest young stars is a testament to the principles put in place under the franchise's new regime.
Of course the Bucks didn't win the lottery over night. The club that they've assembled – a merry band of overachievers who have overachieved so much they may actually just be regular achievers we've been underestimating all along – is deep and talented.
The small-market Bucks have committed to guys who work for them and necessarily so, but while that's all fun and games when your team has Khris Middleton and John Henson locked into team-friendly contracts because they saw value, it stings a little when there's $20.1MM tied up between Matthew Dellavedova and Mirza Teletovic, with the luxury tax looming large.
Don't get it twisted, the Bucks have tactfully leveraged their organization's strength while minimizing environmental challenges outside of their control. The only downside? Now that the Bucks have a core worth hanging onto – players that they're committed to and reliant upon – managing finances becomes that much more important.
Sean Kilpatrick, SG, 28 (Up) – Signed to a one-year, $0.8MM contract in 2018
Kilpatrick showed that he could put points on the board in an extended stay with the Nets between 2015 and 2017. While he hasn't had much of an opportunity to showcase his scoring skills so far in Milwaukee, you can bet the organization knows what he's capable of when given a chance to fill reserve minutes out of the backcourt. Given the team's financial constraints, it would be wise to lock in an affordable depth piece like Kilpatrick when given the opportunity.
Jabari Parker, PF, 23 (Down) – Signed to a four-year, $22.2MM contract in 2014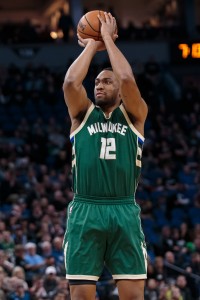 A pair of ACL injuries have cast doubt on Parker's value as a pending restricted free agent. While once it seemed extremely plausible – if not borderline inevitable – that the forward would draw a max contract out of somebody, that's no sure thing in 2018. We wrote earlier this month that the Bucks seemed reluctant to offer Parker any more than $18MM per year. If Parker's play from now until the end of the 2017/18 campaign justifies more than that, the franchise would need to get creative in order to bring him back in a scenario that's financially palatable for ownership. Expect Parker to land an offer sheet from one of the few teams with cap space this summer, and for the Bucks to shed salary in order to comfortably match it and avoid the tax, even if it costs them an asset to do so. While Parker can't be credited for much of Milwaukee's recent success, he's a big reason why they have such an intriguing ceiling.
Jason Terry, SG, 40 (Down) – Signed to a one-year, $2.3MM contract in 2017
There's no doubt that having veteran leadership in the locker room is beneficial to young players. Still, while Terry could conceivably present as an affordable option for rounding out the depth chart next summer, his on-court value is minimal.
Photo courtesy of USA Today Sports Images.