1:53pm: The Pistons have confirmed the trade via a press release.
10:11am: The Bulls are sending veteran point guard Jameer Nelson to the Pistons in a deadline-day trade, reports Shams Charania of Yahoo Sports (Twitter links). According to Charania, center Willie Reed will be headed to Chicago. The Bulls will also get the right to swap 2022 second-round picks with the Pistons, per Tim Bontemps of The Washington Post (via Twitter).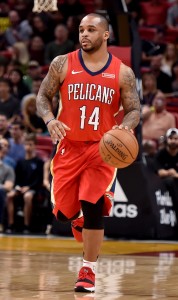 Both Nelson and Reed have already been traded within the last week and a half — Nelson moved from New Orleans to Chicago in the Nikola Mirotic trade, while Reed was one of the pieces the Pistons acquired from the Clippers alongside Blake Griffin. Nelson and Reed were both eligible to be traded again this week, but couldn't have had their salaries aggregated with another player's salary in a deal.
For the Pistons, Nelson will help fortify the point guard position, which has been somewhat shorthanded this season due to Reggie Jackson's lengthy injury absence. Ish Smith and Dwight Buycks have done a respectable job handling point guard duties with Jackson on the shelf, but Nelson will provide a steady veteran hand.
Nelson, who will turn 36 on Friday, appeared in 43 games for the Pelicans this season, averaging 5.1 PPG and 3.6 APG with a .410/.364/.765 shooting line in 20.9 minutes per contest. In Detroit, he'll reunite with Stan Van Gundy, who coached him for several seasons in Orlando.
As for Reed, the 27-year-old center was solid as a part-timer in Miami last season, averaging 5.3 PPG and 4.7 RPG in 71 games with the Heat. His per-minute numbers have remained solid for the Clippers and Pistons this season, but he's playing a career-low 10.2 MPG. He was also recently hit with a six-game suspension as a result of a domestic incident that took place last summer, though the NBPA has filed a grievance on his behalf.
Like Nelson, Reed will be an unrestricted free agent this summer, so he seems unlikely to fit into the Bulls' long-term plans. In fact, Vincent Goodwill of NBC Sports Chicago reports (via Twitter) that Chicago plans to immediately waive the big man.
The Bulls and Pistons will each create modest trade exceptions in the swap, with Chicago getting one worth Nelson's salary ($1,429,818) and Detroit creating one worth Reed's salary ($1,471,382).
Photo courtesy of USA Today Sports Images.