1:14pm: The trade is now official, the Lakers announced in a press release. The 2018 first-rounder acquired by the Lakers is top-three protected, which will protect the Cavs in the unlikely event that they miss the postseason and then get lucky in the lottery.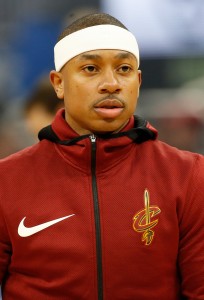 11:08am: The Lakers and Cavaliers are set to complete a trade that will send Jordan Clarkson and Larry Nance Jr. to Cleveland, according to ESPN's Adrian Wojnarowski (via Twitter). In exchange, the Lakers will receive Isaiah Thomas, Channing Frye, and the Cavaliers' 2018 first-round pick, per Kevin O'Connor of The Ringer (Twitter link). That pick will be protected, tweets Woj.
The deal is a fascinating one for two teams that have been heavily involved in trade rumors throughout the 2017/18 season. The move reflects the Cavaliers' desire to get better right away, while the Lakers look ahead to the summer.
From the Cavs' perspective, the trade looks like an admission that the acquisition of Thomas wasn't going to work. After missing most of the first half of the season with a hip injury, the former Celtics star hasn't been able to recapture his old form, and has publicly expressed his frustration during Cleveland's recent slump. Thomas' .361 FG% and .253 3PT% are easily career lows, and his average of 14.7 PPG is way down from the 28.9 PPG he put up last season in Boston.
"He's worked too hard to get back, and he's a ball-dominant player," Thomas' agent Aaron Goodwin told Joe Vardon of Cleveland.com. "It's LeBron's ball, and this clearly wasn't working. [Cavs GM] Koby [Altman] and I have had enough conversations where it was clear, with the way the system was going, it wasn't beneficial for either party. This is a good opportunity for Isaiah."
By sending a struggling Thomas to Los Angeles along with Frye, the Cavs will secure a pair of solid rotation players who are both just 25 years old and are under contract beyond this season. Clarkson has averaged 14.5 PPG with a .448/.324/.795 shooting line so far in 2017/18. Nance, meanwhile, has posted a career-best 8.6 PPG and 6.8 RPG, with a .601 FG%.
While Thomas and Frye are on expiring contracts, Clarkson and Nance will earn a combined $14.77MM in 2018/19, pushing Cleveland's total guaranteed team salary for next year above the $100MM mark, not counting LeBron James. With or without James, it seems very unlikely that the Cavs will have cap room this summer, barring some major moves.
The Lakers, on the other hand, clear nearly $15MM in 2018/19 money from their books in this deal, taking on two expiring contracts and landing a first-round pick in the process. Despite recent rumblings that the team could be shifting its free agency focus to 2019, this deal puts L.A. in a great position to create enough cap room to make a run at two maximum-salary free agents this summer. Their top targets figure to include Paul George, DeMarcus Cousins, and – of course – LeBron.
One of the most interesting aspects of this deal is that both teams could make the case that it improved their odds of signing James this summer — the Cavs acquired some players who can help them contend this season and can stick around next year, while the Lakers created more cap space and will be able to use their new first-round pick to add another player to their young core this offseason.
Some housekeeping notes on this trade: Cleveland will now be unable to trade the Nets' 2018 first-round pick unless they acquire another 2018 or 2019 first-rounder. The Cavs have already traded their '19 first-rounder, and can't leave themselves without first-round picks in consecutive future seasons. They'll reduce their projected luxury tax bill in this deal too, as ESPN's Bobby Marks outlines. Additionally, the Lakers should create a modest trade exception in the deal worth $1,471,382, the amount of Nance's 2017/18 salary.
Photo courtesy of USA Today Sports Images.