Damion Lee has twice suffered an injury that is known to shorten – or even end – careers.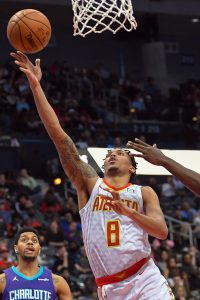 While at Drexel University, Lee missed most of his junior season after tearing the anterior cruciate ligament (ACL) in his right knee in December 2013. Just 16 games into his professional career in January 2017, Lee tore the ACL in his left knee and was released by the G League's Maine Red Claws.
Successfully returning from one ACL tear is difficult enough, as the recovery process can last upwards of one year – Lee had to endure that process twice. Despite the long odds, Lee said he was never deterred from his goal of playing in the NBA.
"Retirement has never crossed my mind," Lee said in an interview with Hoops Rumors via email earlier this month. "After the second injury in 2016, it actually made me stronger and motivated me, because I knew that I have returned from the same injury.  My belief during the entire rehab process was that I could return to the court the second time around stronger than ever."
Lee, 25, said his first ACL injury was the more challenging of the two tears. Lee's first bout with the injury included a meniscus tear, which kept him off his feet for two months. The second injury was a partial tear of the ACL, which enabled Lee to do weight-bearing exercises the day after surgery and be off crutches in two weeks.
"The second time I tore my ACL it was a freak accident," Lee said. "I actually thought it was a meniscus injury. I received an MRI the following morning, and the doctors told me it was partially torn; there are two bundles (of ligaments), and only one bundle was torn. I sort of knew what to expect from the recovery process that time around, so I attacked the recovery process better because I had expectations on how to approach it."
Lee was rewarded for his persistence last week when the Hawks signed the combo guard to a 10-day contract. It was the payoff to a successful G League campaign in which Lee averaged 15.8 PPG, 4.9 RPG and 2.6 APG in 38 games with the Santa Cruz Warriors.
Four games into his NBA career, Lee has shown flashes of the skills that earned him a look in Atlanta.
Lee recorded 13 points and 14 points in his first two contests, becoming the first Hawks rookie to score double-digit points in his first two games since Paul Graham in 1992, per Chris Vivlamore of the Atlanta Journal-Constitution (Twitter link). On Tuesday, he played 32 minutes against the Jazz in his first career start.
Lee said he made it a point to not let his past injuries impact his ability to contribute to his team.
"My playing style actually hasn't changed at all. I've always been a land-loving, slashing, high basketball IQ player since I started playing the game," Lee said. "I may not be the flashiest, but I try to be the most efficient, effective player I can be. I try to do the little things on the court that contribute to the success of my team."
That mentality was noticed by Hawks head coach Mike Budenholzer, who spoke highly of Lee after his second NBA appearance in a 129-117 loss to the Hornets.
"There's a confidence. He has the ability to shoot the 3 but also slashing behind shifts," Budenholzer said, per the Atlanta Journal-Constitution. "Just a good feel for the game. Sticking his nose in there on rebounds and loose balls. Great first impression for him this week."
The Hawks have brought in several guards on 10-day contracts recently, including Antonius Cleveland and Jaylen Morris, who have both since signed multiyear deals with the team. Atlanta now has 14 players on guaranteed contracts, with Lee's 10-day deal – which is set to expire – occupying the 15th and final spot on the roster.
While it remains to be seen if the Hawks will sign him to a second 10-day contract, Lee said his long journey to the NBA has taught him to persevere.
"Tearing an ACL is devastating, but the reality is that everyone in life experiences devastating and tragic events," Lee said. "One thing that I took away from going through these injuries is a confidence that one day I will return to the court and play this game, and it will be a safe haven for me."
Photo courtesy of USA Today Sports Images.