The Magic's seemingly endless rebuild continued in 2017/18, as the team had its sixth straight season with 35 or fewer wins. While a new management team is in place, led by Jeff Weltman and John Hammond, Orlando doesn't appear ready to make a major step forward yet. Questionable investments by Rob Hennigan have left the team without significant cap room in 2018, meaning we shouldn't expect any major free agent moves from the team this summer, though trades are an option.
Here's where things currently stand for the Magic financially, as we continue our Offseason Salary Cap Digest series for 2018:
Guaranteed Salary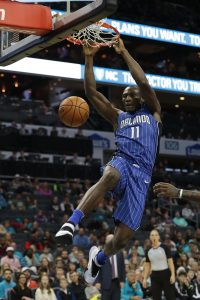 Bismack Biyombo ($17,000,000)
Evan Fournier ($17,000,000)
Nikola Vucevic ($12,750,000)
Terrence Ross ($10,500,000)
D.J. Augustin ($7,250,000)
Jonathon Simmons ($6,000,000)
Jonathan Isaac ($4,969,080)
Wesley Iwundu ($1,378,242)
Shelvin Mack ($1,000,000) — Partial guarantee. Non-guaranteed portion noted below.1
C.J. Watson ($333,333) — Waived via stretch provision

Total: $78,180,655

Player Options
Team Options
Non-Guaranteed Salary
Shelvin Mack ($5,000,000) — Partial guarantee. Guaranteed portion noted above.1
Khem Birch ($1,378,242)2
Rodney Purvis ($1,378,242)3
Total: $7,756,484
Restricted Free Agents
Unrestricted Free Agents / Other Cap Holds
No. 5 overall pick ($5,310,672)4
Mario Hezonja ($5,167,231): Bird rights
Fran Vazquez ($3,346,518)5
Arron Afflalo ($1,499,698): Non-Bird rights
Marreese Speights ($1,499,698): Non-Bird rights
Total: $16,823,817
Projected Salary Cap: $101,000,000
Projected Cap Room: $15,014,470

Our Magic cap projection takes into account the team's eight fully guaranteed contracts, the projected cap hold for the lottery pick, and three cap charges for empty roster spots, resulting a total team salary of $85,985,260. In that scenario, the team would have to waive all of its non- and partially-guaranteed contracts and renounce its free agents.
The Magic may ultimately decide to remain an over-the-cap team this summer. If they want to re-sign Gordon, that's all but guaranteed, since his $16MM+ cap hold would take them over the $101MM mark.
Footnotes:
Mack's salary becomes fully guaranteed after June 25.
Birch's salary becomes fully guaranteed after June 29.
Purvis' exact contract details, including guarantee info, aren't yet known.
The Magic are fifth in the draft lottery standings. They could end up picking as high as No. 1 ($8,095,595) and as low as No. 8 ($4,033,884).
Vazquez was the Magic's 11th overall pick in 2005 and has yet to be renounced, meaning his cap hold is equal to the rookie scale amount for this year's No. 11 pick. That cap hold will be removed when it's officially determined that Vazquez won't sign with the Magic for 2018/19.
Note: Rookie scale cap holds are estimates based on salary cap projections and could increase or decrease depending on where the cap lands.
Salary information from Basketball Insiders was used in the creation of this post. Photo courtesy of USA Today Sports Images.