The NBA's worst team in 2017/18, the Suns won fewer than 25 games for a third straight season and posted their worst record since 1968/69, the franchise's first year of existence. As dismal as that sounds, Devin Booker continues to look like a franchise cornerstone, and young players like Josh Jackson showed promise. With a pair of first-round picks in hand – including a top-four selection – and some salary cap flexibility, the Suns are optimistic they can make a splash this summer and finally take a step toward contention in 2018/19.
Here's where things currently stand for the Suns financially, as we kick off our Offseason Salary Cap Digest series for 2018:
Guaranteed Salary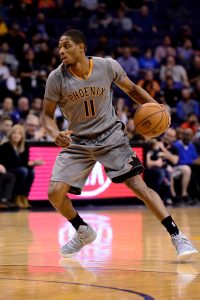 Brandon Knight ($14,631,250)
Tyson Chandler ($13,585,000)
T.J. Warren ($11,750,000)
Jared Dudley ($9,530,000)
Josh Jackson ($6,041,520)
Dragan Bender ($4,661,280)
Devin Booker ($3,314,365)
Troy Daniels ($3,258,539)
Marquese Chriss ($3,206,160)
Davon Reed ($689,121) — Partial guarantee. Non-guaranteed portion noted below.1
Total: $70,667,235

Player Options
Team Options
Non-Guaranteed Salary
Restricted Free Agents
Elfrid Payton ($4,749,591 qualifying offer / $9,997,020 cap hold)
Total: $9,997,020

Unrestricted Free Agents / Other Cap Holds
No. 1 overall pick ($8,095,595)4
Alex Len ($7,956,438): Bird rights
No. 16 overall pick ($2,589,510)
Total: $18,641,543
Projected Salary Cap: $101,000,000
Projected Cap Room: $18,958,539

While the Suns only have about $70MM in guaranteed money on their books, they may have to account for more than $10MM in cap holds for their two first-round picks, which significantly cuts into their potential cap room. Our projection assumes that Phoenix retains its nine guaranteed contracts, plus Reed and its two first-rounders, totaling $82,041,516. In that scenario, the Suns would renounce Payton and Len, and waive their non-guaranteed players. The team could create more room via trades or cuts, and would also open up a little more space with bad draft lottery luck — the cap hold for the No. 4 overall pick would only be $5,864,640.
Footnotes:
Reed's salary becomes fully guaranteed after June 30.

Williams can reportedly trigger a $1MM partial guarantee by meeting certain weight, body fat, and minute requirements. His salary becomes fully guaranteed after July 6.
Harrison's exact contract details aren't yet known.
The Suns are first in the draft lottery standings, giving them a 25% chance at the No. 1 overall pick. They also could end up at No. 2 ($7,243,344), No. 3 ($6,504,619), or No. 4 ($5,864,636).
Note: Rookie scale cap holds are estimates based on salary cap projections and could increase or decrease depending on where the cap lands.
Salary information from Basketball Insiders and RealGM was used in the creation of this post. Photo courtesy of USA Today Sports Images.