With little other options available, Nets general manager Sean Marks has made the most out of his biggest asset: cap space. For that reason, the Nets will likely be diligent as to how they handle free agency in 2018.
While Brooklyn will have its first-round pick in 2019 and doesn't necessarily have to use its payroll as a landfill for unwanted player contracts just to add assets, the club may continue to leverage its cap space during what continues to be the early stages of a rebuild.
With no set core in place, the Nets won't feel much pressure to make deals this summer, which is actually kind of a luxury. Don't expect the franchise to stretch itself thin to bring back any of its free agents if doing so will put them in a bad position.
Jahlil Okafor, C, 22 (Down) – Signed to a three-year, $14MM deal in 2015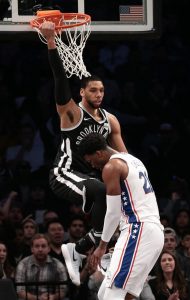 Is there another player in NBA history who, despite a solid first-year campaign and reasonable health throughout, saw his value plummet more over the course of a rookie contract? It's hard to imagine that Okafor's decline is solely a product of his old-school game — he's also had the misfortune of being employed by two franchises that couldn't seem to care less about legitimately developing him as an asset. There will be at least one team willing to give Okafor another shot. It could even be the Nets, considering they'd get for an entire offseason and training camp this time. In any case, Okafor will probably have to sign a short-term, prove-it deal before he gets another significant NBA contract.
Quincy Acy, PF, 27 (Up) – Signed to a two-year, $4MM deal in 2017
Acy is an affordable role player who has served well in two stints with the Nets. Since he comes with a cheap price tag, appears to be content with a minor role, and is a serviceable veteran who contributes when called upon, it's hard to imagine Brooklyn wouldn't welcome him back. Acy may get a longer-term commitment from the Nets this time around, but he isn't likely to draw much more than a modest raise above the league minimum from Brooklyn or anybody else.
Dante Cunningham, SF, 31 (Down) – Signed to a one-year, $2MM deal in 2017
The Nets absorbed Cunningham's contract in a midseason deal, so there's no guarantee that either party would be interested in a commitment beyond 2017/18. Cunningham is a utility forward seemingly intent on contributing to a reasonably competitive team so maybe their timelines just don't match. In any event, the eight-year veteran isn't likely to top the $2MM-$3MM threshold he's flirted with for the majority of his career.
Joe Harris, SG, 26 (Up) – Signed to a two-year, $3MM deal in 2016
The return on investment for Harris has been great, but the Nets may want to pump the brakes when it comes to re-signing him in the offseason. While Harris has been an excellent example of how the Nets franchise has developed youngsters, overpaying for a niche player without a set core in place isn't the wisest course of action. If it looks like Harris might get poached by a more competitive team looking to add a solid depth piece, the Nets shouldn't reach to retain him — not with so many other holes to fill first.
Nik Stauskas, SG, 24 (Down) – Signed to a four-year, $12MM deal in 2014
The Nets have given Stauskas something of a tryout to prove that he could possibly live up to his eighth overall selection back in 2014, but he hasn't done enough to warrant a raise from his rookie deal. While Stauskas may get another chance to prove himself next season, it'll have to come cheap and potentially non-guaranteed.
Photo courtesy of USA Today Sports Images.