Despite some unsavory long-term contracts, the Magic have plenty of cap space lined up for the 2018/19 season. For that reason, and the obvious one that they haven't sniffed a .500 record the last six seasons, the franchise is very much a blank canvas heading forward.
Last season was the first year at the helm for new president of basketball operations Jeff Weltman and general manager John Hammond, and they played things rather safe, inking a handful of serviceable, if forgettable, veterans to modest deals and calling it an offseason. This summer we may get our first look at what their long-term plans for the franchise are.
Arron Afflalo, SG, 32 (Down) – Signed to a one-year, $2MM deal in 2017
While the once-vaunted perimeter defender previously came with a hefty price tag, the Magic managed to snag Afflalo on a cheap deal this past season. You can't fault the squad for the speculative leadership add considering the lack of identity on the roster, but there's no obvious reason to expect the veteran to want to return after a forgettable 2017/18. Afflalo played just 12.9 minutes per game this season and literally can't do any worse on the open market than he did last time when he landed a minimum contract on a terrible team that couldn't even be bothered to give him consistent playing time. That's not a knock on either party — sometimes things just aren't a good fit — but I expect the journeyman to seek a more substantive role for the first time since his stint in Denver.
Aaron Gordon, PF, 22 (Up) – Signed to a four-year, $18MM contract in 2014
The Magic have all the flexibility in the world to accommodate a sizable Gordon deal and the combo forward is intriguing enough to convince at least one other team to make a generous offer. While it's hard to say with certainty that Gordon can carry this franchise on his back given that he hasn't really done so in four seasons, it's equally hard to fault a team for pouncing on the opportunity to lock in an All-Star-adjacent asset that hasn't even turned 23 yet. Could Gordon yield the max contract that he's said to be seeking? It seems within reach, even if the Magic or any other team that commits to it ends up slightly underwhelmed.
Mario Hezonja, SF, 23 (Up) – Signed to a three-year, $12MM contract in 2015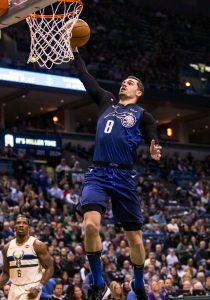 The Magic turned down the fourth-year option on Hezonja's rookie contract and the swingman responded with the most memorable season of his young career so far. In 11 February contests Hezonja averaged 15.5 points and 5.0 rebounds per game, briefly showcasing that he could potentially be relied upon as an offensive weapon if given the opportunity. Nothing precludes the Magic from putting an offer on the table to bring him back this summer, but they can't give him a starting salary higher than the value of the option they turned down ($5.17MM). Regardless, declining that option suggests the front office may have already made up its mind about his future with the team. Hezonja should draw interest elsewhere and could end up as a modest rotation player.
Marreese Speights, C, 30 (Up) – Signed to a one-year, $2MM deal in 2017
Speights went from chipping in for four straight Western Conference contenders to a decidedly less competitive Magic squad, but don't overlook the fact that the veteran established himself as a leader on a team in his home state. While there won't be a shortage of space or money to bring Speights back in 2018/19, it's reasonable to believe he'll at least consider offers that could put him back in a position to contend. Speights was, and remains, an intriguing stretch big capable of filling the stat sheet in limited minutes off the bench. He won't be any team's top priority but he's worth more than what he made this year.
Photo courtesy of USA Today Sports Images.