Mavericks wing Wesley Matthews has officially exercised the player option on his contract for the 2018/19 season, reports Shams Charania of Yahoo Sports. The final year on Matthews' four-year deal with Dallas will pay him a salary of $18,622,514.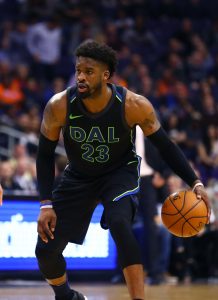 The move doesn't come as a surprise, as we heard just last week that Matthews intended to exercise his option. He would have had little chance of matching or exceeding that $18MM+ salary if he had opted out and tested the free agent market.
Matthews, 31, appeared in 63 games for the Mavs in 2017/18, averaging 12.7 PPG, 3.1 RPG, and 2.7 APG with a .406/.381/.822 shooting line. His season was cut short by a fractured fibula — he sustained the injury on March 10 and didn't return before season's end. However, Matthews confirmed earlier this month that he has been medically cleared to resume full basketball activities, so he should be back to 100% for the start of training camp in the fall.
The Mavs reportedly explored the possibility of moving Matthews at February's trade deadline, but their asking price was high — the club was said to be seeking a first-round pick, which was unrealistic given the veteran's modest production and his looming $18MM option.
Still, while Matthews may never replicate the numbers he posted in Portland earlier in his career, he has been a solid three-point shooter and defender during his time with Dallas, and could become more appealing as a trade chip now that he'll be on an expiring contract. It will be interesting to see if the rebuilding Mavs revisit the trade market for Matthews during the offseason.
Matthews is the second player to formally pick up a player option for 2018/19, joining Jeremy Lin, as our tracker shows.
Photo courtesy of USA Today Sports Images.