A midseason blockbuster for Blake Griffin didn't lead to immediate results for the Pistons, but the team will look to the Pelicans as a reason for hope going forward — New Orleans' trade-deadline acquisition of DeMarcus Cousins didn't really pay dividends until year two. With a nucleus of Griffin, Andre Drummond, and Reggie Jackson, there's some reason for optimism in Detroit heading into 2018/19 — as long as those stars can stay healthy.
Here's where things currently stand for the Pistons financially, as we continue our Offseason Salary Cap Digest series for 2018:
Guaranteed Salary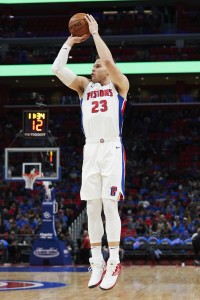 Blake Griffin ($32,088,932)
Andre Drummond ($25,434,263)
Reggie Jackson ($17,043,478)
Jon Leuer ($10,002,681)
Langston Galloway ($7,000,000)
Ish Smith ($6,000,000)
Josh Smith ($5,331,729) — Waived via stretch provision
Stanley Johnson ($3,940,402)
Luke Kennard ($3,275,280)
Henry Ellenson ($1,857,480)
Total: $111,974,245

Player Options
Team Options
Non-Guaranteed Salary
Restricted Free Agents
Unrestricted Free Agents / Other Cap Holds
Projected Salary Cap: $101,000,000
Projected Cap Room: None

With or without Griffin's mammoth salary on their cap, the Pistons wouldn't have had any space this summer, since the contracts for Tobias Harris and Boban Marjanovic run through 2018/19. With Griffin on the books though, Detroit projects to be way over the cap, with a total team salary starting at $114,468,178 — that accounts for the Pistons' nine guaranteed contracts, plus cap charges for three empty roster spots.
Footnotes:
Bullock's salary becomes fully guaranteed after July 15.
Moreland's salary becomes guaranteed for $750K after July 8. There are additional partial guarantees of $250K apiece after September 1 and after the first game of the regular season.
Buycks' salary becomes fully guaranteed after September 1.
Salary information from Basketball Insiders was used in the creation of this post. Photo courtesy of USA Today Sports Images.