After having been unable to lure a star free agent to Miami since LeBron James' exit, the Heat decided to invest in good – but not great – players during 2017 free agency. That means lucrative new deals for James Johnson, Kelly Olynyk, and Dion Waiters. With Tyler Johnson and Josh Richardson also set to get big raises in 2018/19, the Heat don't project to have cap room this summer and don't have their first-round pick, so any major roster changes will have to come in trades.
Here's where things currently stand for the Heat financially, as we continue our Offseason Salary Cap Digest series for 2018:
Guaranteed Salary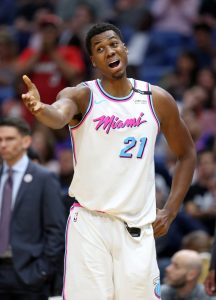 Hassan Whiteside ($25,434,263)
Tyler Johnson ($19,245,370)
Goran Dragic ($18,109,175)
James Johnson ($14,651,700)
Dion Waiters ($11,550,000)
Kelly Olynyk ($11,137,527)
Josh Richardson ($9,367,200)
Justise Winslow ($3,448,926)
Bam Adebayo ($2,955,840)
A.J. Hammons ($350,088) — Waived via stretch provision
Total: $116,250,089

Player Options
Team Options
Non-Guaranteed Salary
Restricted Free Agents
Jordan Mickey ($1,839,228 qualifying offer / $1,839,228 cap hold)
Total: $1,839,228
Unrestricted Free Agents / Other Cap Holds
Wayne Ellington ($8,151,000): Early Bird rights
Luke Babbitt ($1,499,698): Non-Bird rights
Udonis Haslem ($1,499,698): Bird rights
Dwyane Wade ($1,499,698): Non-Bird rights
Total: $12,650,094
Projected Salary Cap: $101,000,000
Projected Cap Room: None

Even without re-signing Ellington, Wade, or any other free agents, the Heat project to be way over the cap. Their nine guaranteed salaries, McGruder's non-guaranteed salary, and cap charges for two roster spots add up to a total team salary of $119,457,662. The Heat are likely headed for tax territory unless they can cut costs in a trade or two.
Footnotes:
McGruder's salary becomes fully guaranteed after June 30.
Note: Rookie scale cap holds are estimates based on salary cap projections and could increase or decrease depending on where the cap lands.
Salary information from Basketball Insiders was used in the creation of this post. Photo courtesy of USA Today Sports Images.