After a competitive first-round series against the Raptors in 2017, the Bucks seemed poised to take a step forward into the realm of legit contenders in the East. That didn't happen, however, as the club struggled to reach its ceiling, firing head coach Jason Kidd midway through the season. Milwaukee may have to count on a new coach – and internal improvement from its current players – to get better results in 2018/19, since the club doesn't have a ton of cap flexibility to upgrade its roster.
Here's where things currently stand for the Bucks financially, as we continue our Offseason Salary Cap Digest series for 2018:
Guaranteed Salary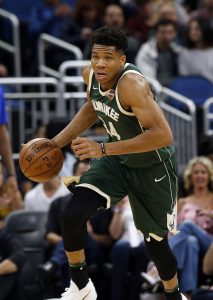 Giannis Antetokounmpo ($24,157,304)
Eric Bledsoe ($15,000,000)
Khris Middleton ($13,000,000)
Tony Snell ($10,607,143)
John Henson ($10,577,466)
Matthew Dellavedova ($9,607,500)
Mirza Teletovic ($3,500,000) — Waived via stretch provision
Thon Maker ($2,799,720)
D.J. Wilson ($2,534,280)
Spencer Hawes ($2,007,058) — Waived via stretch provision
Larry Sanders ($1,865,546) — Waived via stretch provision
Sterling Brown ($1,378,242)

Total: $97,034,259

Player Options
Team Options
Non-Guaranteed Salary
Restricted Free Agents
Unrestricted Free Agents / Other Cap Holds
Projected Salary Cap: $101,000,000
Projected Cap Room: None

While trades or cuts could open up some cap room for the Bucks, they're far more likely to remain an over-the-cap team this summer. Their nine guaranteed contracts, plus Brogdon's non-guaranteed salary, Parker's cap hold, and the cap hold for their first-round pick bring the Bucks' total team salary to $105,373,063, which is over the cap, but comfortably below the projected tax line.
While it looked as if the Bucks may have to move a contract or two in order to re-sign Parker and remain below the tax line, that's not necessarily a lock. Parker wasn't at his best down the stretch and in the postseason, which may have diminished his free agent stock to some extent. If Milwaukee doesn't have to pay max or near-max money to retain Parker, staying out of the tax would be much easier.
Footnotes:
Jennings' exact contract details, including guarantee info, aren't yet known.
Brogdon's salary becomes fully guaranteed after July 1.
Note: Rookie scale cap holds are estimates based on salary cap projections and could increase or decrease depending on where the cap lands.
Salary information from Basketball Insiders was used in the creation of this post. Photo courtesy of USA Today Sports Images.