Re-signing Jrue Holiday to a massive five-year contract during the 2017 offseason ensured that the Pelicans didn't have any cap room available last year, and that figures to be the case again this summer. Now, the big question will be whether the team can bring back its two key free agents – DeMarcus Cousins and Rajon Rondo – without going deep into luxury-tax territory.
Here's where things currently stand for the Pelicans financially, as we continue our Offseason Salary Cap Digest series for 2018:
Guaranteed Salary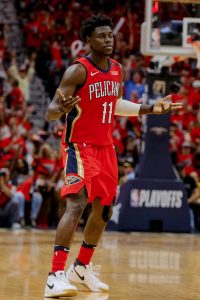 Jrue Holiday ($26,131,111)
Anthony Davis ($25,434,262)
Nikola Mirotic ($12,500,000)
Solomon Hill ($12,252,928)
E'Twaun Moore ($8,808,685)
Alexis Ajinca ($5,285,394)
Frank Jackson ($1,378,242)
Cheick Diallo ($500,000) — Partial guarantee. Non-guaranteed portion noted below.1

Total: $92,290,622

Player Options
Team Options
Non-Guaranteed Salary
Emeka Okafor ($2,445,085)2
Darius Miller ($2,205,000)3
DeAndre Liggins ($1,795,015)4
Cheick Diallo ($1,044,951) — Partial guarantee. Guaranteed portion noted above.1
Total: $7,490,051
Restricted Free Agents
Unrestricted Free Agents / Other Cap Holds
DeMarcus Cousins ($27,095,775): Bird rights
Rajon Rondo ($3,960,000): Non-Bird rights
Jordan Crawford ($1,499,698): Early Bird rights
Ian Clark ($1,499,698): Non-Bird rights
Total: $34,055,171
Projected Salary Cap: $101,000,000
Projected Cap Room: None

Even if the Pelicans were to renounce all their free agents and waive all their non-guaranteed salaries, their total team salary would still reach a minimum of $96,447,177, creating less than $5MM in cap room. The mid-level exception projects to be worth about $8.57MM, so New Orleans is better off remaining an over-the-cap team. Plus, cap holds for Cousins and Rondo would put the club way over the cap anyway.
For what it's worth, Cousins' max salary projects to be $30.3MM. Adding that figure to the Pelicans' current guaranteed salaries increases team salary to $122,590,622 for just eight players, meaning New Orleans would have to go well past the tax line to fill out its roster. As such, if the club plans to bring back Cousins on a max deal, it wouldn't be a surprise to see one or two of those other guaranteed contracts traded or waived.
Footnotes:
Diallo's salary becomes fully guaranteed after July 7.
Okafor's salary becomes guaranteed for $100K after July 12.
Miller's salary becomes guaranteed for $300K after June 28, then fully guaranteed after July 24.
Liggins' salary becomes guaranteed for $50K after July 15, then guaranteed for $75K after July 30.
Note: Rookie scale cap holds are estimates based on salary cap projections and could increase or decrease depending on where the cap lands.
Salary information from Basketball Insiders was used in the creation of this post. Photo courtesy of USA Today Sports Images.