David Fizdale has agreed to a deal to become the Knicks' new head coach, reports ESPN's Adrian Wojnarowski. Fizdale will sign a four-year deal with New York, Wojnarowski adds.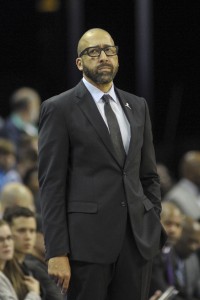 Fizdale was a popular head coaching candidate this spring, as the Magic, Hawks, Suns, and Hornets interviewed him for their vacancies. As it turns out, Fizdale recently turned down an offer from Phoenix to become the Suns' head coach because he wanted the Knicks' job, per ESPN's Marc J. Spears.
The Knicks fired Jeff Hornacek at the end of the regular season, ending his two-year stint as head coach. Despite having another year left on his deal, Hornacek was the odd man out as the team's new regime of president Steve Mills and general manager Scott Perry rebuild the franchise.
We relayed yesterday that Fizdale had gained serious traction to become the Knicks' next head coach. Fizdale was among 11 candidates that New York considered throughout the process. Former Hawks coach Mike Budenholzer, former Cavaliers coach David Blatt, and former Warriors coach and analyst Mark Jackson were reportedly finalists.
Fizdale will become the Knicks' 11th head coach since the 2001/02 campaign, ESPN's Ian Begley notes. New York is seeking stability in the role and the organization hopes the 43-year-old Fizdale can provide it. As part of his new job, Fizdale is expected to travel to Latvia soon to meet with Kristaps Porzingis, Wojnarowkski noted.
Fizdale coached the Grizzlies to a 43-39 record during the 2016/17 campaign, but the team was eliminated in the first round of the playoffs. Fizdale was relieved of his duties 19 games into this season as Memphis struggled to win while the head coach's relationship with All-Star Marc Gasol reportedly deteriorated.
Before he joined the Grizzlies, Fizdale served as an assistant coach with the Warriors, Hawks, and Heat. He was part of the Heat organization for eight seasons, helping the team reach four NBA Finals, winning two of them. Despite his issues with Gasol in Memphis, Fizdale had been endorsed by several of his former players, including future Hall-of-Famer Dwyane Wade.
"He's a phenomenal coach — everyone has seen that in the job he was able to do in Memphis [last season],'' Wade said. "I definitely think his name will be in the running for a lot of jobs. He's going to bring to a team his work ethic, a great offensive-minded coach, but has defensive principles from Miami [president] Pat Riley has installed in every coach that's come here."
Photo courtesy of USA Today Sports Images.