After peaking with a 60-win performance in 2013/14, the Hawks were trending in the wrong direction when new general manager Travis Schlenk assumed the reins last summer. Schlenk decided to accelerate the club's gradual decline, allowing Paul Millsap and several other veterans to depart in free agency or trades.
The Hawks' plan to bottom out worked — the team finished with a 24-58 record and got a little luck in the draft lottery, snagging a top-three pick. After effectively tearing things down during his first year in Atlanta, Schlenk will now be under pressure to start building the Hawks back up.
Here are five key questions facing the franchise this summer: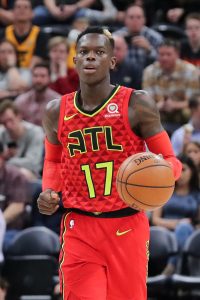 1. Is Dennis Schroder on the trade block?
The 2017/18 Hawks were short on star power, with Schroder representing the closest thing the team had to a star player. The 24-year-old comfortably led the team in scoring (19.4 PPG) and assists (6.2 APG), establishing new career highs in both categories.
However, there are signs that Schroder may not be a part of the next playoff team in Atlanta. He's currently dealing with legal trouble, having been arrested on a battery charge last fall, and there are have been rumblings that he's not exactly a positive locker room influence. Most recently, Schroder made comments suggesting that he wouldn't mind being traded by the Hawks.
Reports as of last week indicated that neither Schroder nor his agent had formally asked the Hawks to explore possible trades, but given the mounting red flags and the fact that the new front office didn't draft Schroder or sign him to his current extension, it's possible that Schlenk and company aren't married to the point guard long term. It will be worth watching to see whether Schroder's name pops up in trade rumors this offseason.
2. What's the timeline for the rebuild?

Schroder should just be entering his prime and is under contract at a reasonable rate of $15.5MM annually through 2021, making him a seemingly ideal cornerstone piece for a rebuild. So if Atlanta does explore trading Schroder, it's fair to ask what sort of timeline the franchise envisions for its rebuild.
Outside of Schroder, there aren't many promising young building blocks on the Hawks' roster. John Collins and Taurean Prince certainly qualify, but they're unlikely to develop into franchise-type players or perennial All-Stars.
So how might Atlanta find one or two of those players with franchise-changing potential? This year's No. 3 pick is one tool available, though if the team is preparing for a slow rebuilding process, it might not be the last time the Hawks head into the draft with a top-five pick.
The free agent market is another potential path for the franchise, but even with $30MM+ in cap room this summer, I don't expect Atlanta to be in the mix for top-tier free agents. The Hawks don't seem to be eager to speed up their rebuild, so they're probably at least a year or two away from making a serious run at veteran difference-makers in free agency.
3. How will the Hawks use their excess draft picks?

Of course, free agency isn't the only way the Hawks could pursue a standout player. In fact, it might not even be the most effective way, since top veteran free agents are more likely choose a team closer to title contention.
Atlanta's excess draft picks provide a more effective way for the Hawks to shop for a star. The team heads into next month's draft with four picks in the top 34, including three first-rounders, and also holds an extra first-round selection in 2019. If the front office really wants to take things slow, it could just keep all those picks, perhaps rolling the dice on a draft-and-stash player or two so that the roster isn't overrun with rookies.
Still, at some point it might make sense for the Hawks to consolidate their assets and dangle multiple picks in a trade offer for an established star. That may not happen this summer, but Atlanta's collection of assets shouldn't be overlooked in the future, especially if the club pushes those picks down the road by flipping one or two of its 2018 selections for future first-rounders.
4. Who are the Hawks targeting at No. 3?

The Hawks moved up from No. 4 to No. 3 in the lottery, but that doesn't necessarily create more clarity about which prospect will end up on their roster. If Deandre Ayton and Luka Doncic are the first two players off the board, as is widely expected, the Hawks would have their pick of big men like Marvin Bagley III, Jaren Jackson Jr., and Mohamed Bamba. Forward Michael Porter Jr. could also be a viable option at No. 3 if his medicals look good.
While Bagley is viewed by many experts as the best prospect of that group, I wonder if the defense-first mindset of new head coach Lloyd Pierce will influence the Hawks' choice at all. Jackson and Bamba, in particular, look to have tremendous defensive upside, and would be intriguing additions next to Collins in Atlanta's frontcourt.
5. Is Lloyd Pierce the right man for Atlanta's head coaching job?

Speaking of Pierce, he was an interesting choice to replace Mike Budenholzer on Atlanta's bench. If we assume that the Hawks are strapping in for a multiyear rebuilding process, a Sixers assistant seems like an ideal fit to oversee that process.
In fact, the Hawks' hiring of Pierce bears some resemblance to the 76ers' hiring of Brett Brown at the start of "The Process." A longtime NBA assistant, Pierce will get the opportunity to grow into the head coaching role as his young players develop, and won't be under pressure to win right away. His performance will instead be judged by his ability to instill a positive culture in Atlanta and to help his young players grow.
If his work in Philadelphia is any indication, Pierce seems well-equipped to achieve those goals — if he struggles to do so, Atlanta may be on the lookout for someone with more head coaching experience in two or three years when the team is ready to contend.
---
Here's where things currently stand for the Hawks financially:
Guaranteed Salary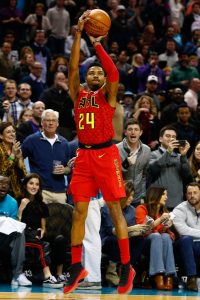 Kent Bazemore ($18,089,887)
Dennis Schroder ($15,500,000)
Miles Plumlee ($12,500,000)
Taurean Prince ($2,526,840)
Jamal Crawford ($2,304,226) — Waived
John Collins ($2,299,080)
DeAndre' Bembry ($1,634,640)
Tyler Dorsey ($1,378,242)
Total: $56,232,915

Player Options
Team Options
Non-Guaranteed Salary
Isaiah Taylor ($1,544,951)1
Tyler Cavanaugh ($1,378,242)2
Antonius Cleveland ($1,378,242)3
Jaylen Morris ($1,378,242)
Total: $5,679,677
Restricted Free Agents
Malcolm Delaney ($3,125,000 qualifying offer / $3,250,000 cap hold): Early Bird rights
Damion Lee ($1,537,872 qualifying offer / $1,537,872 cap hold): Non-Bird rights
Total: $4,787,872
Unrestricted Free Agents / Other Cap Holds
Mike Muscala ($9,500,000): Bird rights (if player option is declined)
Dewayne Dedmon ($8,280,000): Non-Bird rights (if player option is declined)
No. 3 overall pick ($6,504,619)
No. 19 overall pick ($2,231,755)
No. 30 overall pick ($1,606,717)
Total: $28,123,091
Projected Salary Cap: $101,000,000
Projected Cap Room: $32,761,372

For our Hawks cap projection, we're assuming that both Dedmon and Muscala decline their player options, which isn't necessarily a lock (Dedmon appears more likely to opt out than Muscala). We're also assuming the team waives all its non-guaranteed players and renounces its free agents, which is hardly a sure thing either.
In that scenario, the Hawks' seven guaranteed contracts, three first-round picks, and two cap charges for empty roster spots result in a team salary of $68,238,628. That's nearly enough to accommodate any maximum-salary free agent, though Atlanta is unlikely to be in the market for any players of that caliber.
Footnotes:
Taylor's salary becomes guaranteed for $300K after June 22, then fully guaranteed after July 27.
Cavanaugh's salary becomes guaranteed for $450K after May 15, then fully guaranteed after July 7.
Cleveland's exact contract details, including guarantee info, aren't yet known.
Note: Rookie scale cap holds are estimates based on salary cap projections and could increase or decrease depending on where the cap lands.
Salary information from Basketball Insiders was used in the creation of this post. Photos courtesy of USA Today Sports Images.