For a third straight season, the Suns failed to reach the 25-win mark. Their 2017/18 record of 21-61 was the second-worst in franchise history and ranked dead last in the NBA, but all that losing paid off on May 15, when the club won the first overall pick in the 2018 draft lottery.
With a new head coach (Igor Kokoskov) on board and that No. 1 overall pick in hand, the Suns have some reason for optimism heading into the 2018 offseason.
Here are five key questions facing the franchise this summer:
1. What will the Suns do with the No. 1 pick?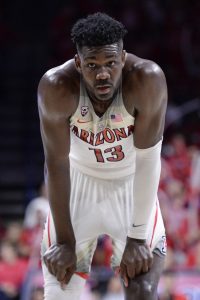 With plenty of talent to be found at the top of this year's draft class, there's no shortage of good options for the Suns. The two best ones are probably Deandre Ayton, an ultra-talented big man who played his college ball at nearby University of Arizona, and Luka Doncic, a 19-year-old EuroLeague standout who has played for Kokoskov on the Slovenian national team.
Ayton appears to be the early frontrunner, but Suns GM Ryan McDonough has said the team will take its time to make a decision. It will be interesting to see if McDonough considers trading down. A year ago, Markelle Fultz and Lonzo Ball represented the consensus top two, allowing Danny Ainge to pick up a valuable extra asset by moving down to No. 3 and getting the player he wanted all along.
If the Suns aren't in love with Ayton or Doncic and another team is, McDonough could make a similar move, though the bet here is that Phoenix won't pass up on the chance to choose a potential franchise player at No. 1.
2. Will Devin Booker get a long-term extension this year?
Whoever the Suns draft with their top pick will have to mesh with Booker, the closest thing the Suns currently have to a franchise player. Speaking of Booker, he'll find himself in an interesting contract situation as he enters his fourth NBA season.
Booker will become eligible for a contract extension for the first time on July 1, and he and the Suns will have until the start of the regular season to work out a new long-term deal. Phoenix has no cap limitations restricting the team's ability to make a lucrative offer to Booker. Still, it's not clear whether the Suns will rush into an extension for their top scorer or if they'll prefer to wait until his restricted free agency in 2019.
Even if the Suns have no doubts about securing Booker for the long term, waiting until 2019 to finalize that deal could create more cap flexibility. His cap hold as an RFA in the summer of '19 would be just under $10MM, while an extension would immediately hit the club's 2019/20 cap at $25MM+.
3. How will the Suns use their cap space?
The Suns' decision on Booker could ultimately come down to how the team uses its cap room this offseason. With about $18MM available – and the ability to create more space – Phoenix could go out and pursue a top free agent. The team has been in the mix for players like LaMarcus Aldridge, Blake Griffin, and Kyrie Irving in recent years, so the desire to add a star is there — maybe this is the time.
Clint Capela has been mentioned as a potential target for the Suns, though he'd make less sense if the club drafts Ayton. In order to create enough cap room to offer Capela – or another RFA – a max or near-max contract, Phoenix might need to buy out Tyson Chandler and/or Jared Dudley.
Still, while McDonough and the front office have been trying to land a star for years, they'll want to avoid spending big money on the wrong player this summer. If they strike out on their top two or three targets, it could be more prudent to use that cap room to take on another team's unwanted contract, picking up extra assets in the process. That could put the Suns in position to spend big in 2019, when Chandler and Dudley come off their books.
4. Is Kokoskov the right man for the head coaching job?
Kokoskov's résumé is impressive, and he deserves a shot at a head coaching position. Still, it's worth noting that he wasn't Phoenix's first choice.
It's not clear how serious the Suns' interest in Mike Budenholzer was, as Budenholzer withdrew his name from consideration before we knew if Phoenix would make him an offer. However, we do know the club made an offer to David Fizdale, who opted to join the Knicks instead.
Being a second or third choice doesn't mean Kokoskov can't become an excellent NBA head coach. However, there's a lot of pressure on McDonough and the Suns to get this hire right. Kokoskov is the club's seventh head coach since Mike D'Antoni left Phoenix in 2008, and the fourth coach Booker has played for since he was drafted. Everyone involved wants this relationship to turn into a long-term marriage.
5. Are Marquese Chriss and/or Dragan Bender keepers?
One of Kokoskov's first challenges will be unlocking the potential of Chriss and Bender. Before they landed the first overall pick in this year's draft, the Suns' most important draft in recent history was 2016's — it saw the team select Bender at No. 4, then trade a bevy of assets – including the rights to Bogdan Bogdanovic – to Sacramento in order to nab Chriss at No. 8. Those two young bigs looked like key pieces in the Suns' rebuild at that point.
Two years later, both players have shown flashes of upside, but neither one has enjoyed a true breakout stretch as an NBA player. On the plus side, they're both still just 20 years old, and if the Suns draft Ayton next month, there will be far less pressure on Chriss and Bender to become the team's frontcourt duo of the future.
I don't expect the Suns to turn down their 2019/20 rookie scale team options on either Chriss or Bender — as we saw this season with guys like Mario Hezonja and Kevon Looney, declining those options on young players can backfire. Still, 2018/19 could be a make-or-break year for Chriss and Bender when it comes to determining their long-term futures in Phoenix.
---
Here's where things currently stand for the Suns financially:
Guaranteed Salary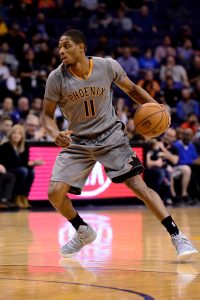 Brandon Knight ($14,631,250)
Tyson Chandler ($13,585,000)
T.J. Warren ($11,750,000)
Jared Dudley ($9,530,000)
Josh Jackson ($6,041,520)
Dragan Bender ($4,661,280)
Devin Booker ($3,314,365)
Troy Daniels ($3,258,539)
Marquese Chriss ($3,206,160)
Davon Reed ($689,121) — Partial guarantee. Non-guaranteed portion noted below.1
Total: $70,667,235

Player Options
Team Options
Non-Guaranteed Salary
Restricted Free Agents
Elfrid Payton ($4,749,591 qualifying offer / $9,997,020 cap hold)
Total: $9,997,020

Unrestricted Free Agents / Other Cap Holds
No. 1 overall pick ($8,095,595)
Alex Len ($7,956,438): Bird rights
No. 16 overall pick ($2,589,510)
Total: $18,641,543
Projected Salary Cap: $101,000,000
Projected Cap Room: $18,958,539

Our projection assumes that Phoenix retains its nine guaranteed contracts, plus Reed and its two first-rounders, totaling $82,041,516. In that scenario, the Suns would renounce Payton and Len, and waive their non-guaranteed players. The team could create more room via trades or cuts.
Footnotes:
Reed's salary becomes fully guaranteed after June 30.

Williams can reportedly trigger a $1MM partial guarantee by meeting certain weight, body fat, and minute requirements. His salary becomes fully guaranteed after July 6.
Harrison's salary will become guaranteed for $50K after August 1.
Note: Rookie scale cap holds are estimates based on salary cap projections and could increase or decrease depending on where the cap lands.
Salary information from Basketball Insiders and RealGM was used in the creation of this post. Photos courtesy of USA Today Sports Images.