The Timberwolves landed back in the NBA playoffs for the first time in 14 seasons this spring. That comes as no surprise, given that the club has finally paired its stockpile of young stars with a formidable, winning coach and a green light to spend.
The Wolves need not fret that they barely put a dent in the Rockets this postseason as they'll be back in contention next season and for as long as Jimmy Butler is capable of leading the club's offense, flanked by Andrew Wiggins and Karl-Anthony Towns.
It'll get mighty difficult to afford all three eventually but they won't need to seriously contemplate how to make all the numbers work until the summer after this one.
Nemanja Bjelica, PF, 30 (Down) – Signed to a three-year, $12MM deal in 2015
The Timberwolves are in a much different position now than they were when they inked Bjelica as an international free agent, but the veteran has hung around in large part due to his presence in the locker room. Given that the Wolves already have so much of their 2018/19 payroll tied up in other players, don't expect them to offer Bjelica much more than the minimum.
Aaron Brooks, PG, 33 (Down) – Signed to a one-year, $2MM deal in 2017
Brooks didn't exactly take the league by storm in his tenth season but his role and value are clear; he's a familiar insurance policy for former Bulls coach Tom Thibodeau. Brooks isn't likely to have a long list of suitors so it's well within reason that he ends up back in Minnesota on another veteran's minimum deal late this offseason.
Jamal Crawford, SG, 38 (Down) – Signed to a two-year, $9MM deal in 2017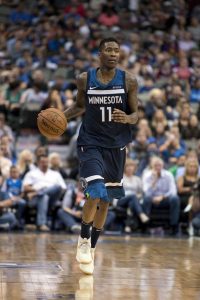 Having made over $100MM over the course of his career, including $11MM from a team he didn't even play for in 2017/18, Crawford won't accept his $4.5MM player option for next season if he's not perfectly content playing for Minnesota. I wouldn't rule out the 38-year-old passing on a second season with the Wolves in order to close out his career as a killer reserve on a team with more realistic short-term title aspirations.
Marcus Georges-Hunt, SG, 24 (Up) – Signed to a one-year, $1MM deal in 2017
There won't be significant pressure for the Wolves to bring back Georges-Hunt after a solid but modest first year in Minnesota, but they'll need to fill out their lineup eventually and he's a tough, defensive-minded player. Expect the club to keep its options open over the course of the offseason but don't be surprised if the Wolves bring the familiar 24-year-old back on the cheap.
Amile Jefferson, PF, 25 (Up) – Signed to a one-year deal in 2018
The Wolves converted Jefferson's two-way contract into a standard deal last month despite the fact that he never even suited up for the big league roster. Still, the team had a spot to spare and had no reason not to add the extra layer of depth heading into the postseason. Jefferson is a stud in the G League so the organization may be intrigued by his eventual fit with the parent club, but he won't earn more than the minimum.
Derrick Rose, PG, 29 (Up) – Signed to a one-year deal in 2018
Prior to signing on with his former head coach late in the regular season, Rose's value was at a career low. Fast forward two months later, however, and the wayward guard may have actually stumbled into an opportunity to salvage his career. Rose averaged 14.2 points per game for the Wolves in the postseason and could be a valuable rotation piece in the right situation. We've seen Rose flame out in a couple of wrong situations, so the fact that he's found any sort of momentum reunited with Thibodeau and the rest of the Timberbulls bodes well for all involved. Rose didn't do enough during the first six months of the season to warrant any more than another speculative one-year, minimum deal, but the postseason resurgence may have earned him one last run at meaningful minutes on a competent team.
Photo courtesy of USA Today Sports Images.