MAY 4: While there has been no formal announcement from the Pacers, Joseph has officially exercised his 2018/19 option, according to RealGM's NBA transactions log.
MAY 2: Pacers guard Cory Joseph will exercise his player option to return to Indiana for one more season, reports ESPN's Adrian Wojnarowski (via Twitter). The 2018/19 option will pay Joseph a salary of $7,945,000 before he becomes eligible for unrestricted free agency in the summer of 2019.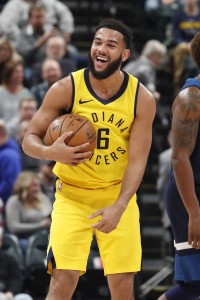 Joseph, 26, was a reliable rotation piece for the Pacers in his first season with the team, appearing in all 82 games and starting 17 when Darren Collison was unavailable. In 27.0 minutes per contest, Joseph averaged 7.9 PPG, 3.2 APG, and 3.2 RPG with a shooting line of .424/.353/.745.
If Joseph had faced this year's player option decision in either of the last two offseasons, when NBA teams had more cap room available, he likely would've opted out. With teams expected to spend less aggressively in free agency this summer, it's hard to blame the veteran point guard for playing it safe and exercising that option. Joseph is already the third veteran to pick up a 2018/19 option – joining Jeremy Lin and Wesley Matthews – and he certainly won't be the last.
[RELATED: Five player options that look like locks to be exercised]
While Joseph's opt-in will add more guaranteed money to the Pacers' cap for next season, the team remains in very good financial shape, with just under $48MM in guaranteed salary on its books. If Thaddeus Young – like Joseph – picks up his player option, that would add another $13MM+ to that total. The Pacers will face decisions of their own on Collison, Bojan Bogdanovic, Lance Stephenson, Al Jefferson, and Joe Young, all of whom have team options or non-guaranteed contracts.
You can follow all of this year's player option decisions using our tracker.
Photo courtesy of USA Today Sports Images.