JUNE 29, 1:22pm: Kanter has officially picked up his option, his manager Hank Fetic confirms to Begley (Twitter link).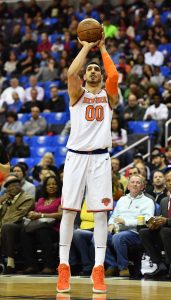 JUNE 29, 9:19am: Kanter plans to exercise his 2018/19 option later today, per Shams Charania of Yahoo Sports (Twitter link).
JUNE 28, 10:54am: Knicks center Enes Kanter is leaning "heavily" toward exercising the 2018/19 player option on his contract, reports Ian Begley of ESPN.com (via Twitter). According to Begley, Kanter will continue to survey his market in advance of Friday's deadline, but he's a strong bet to ultimately opt in.
If Kanter does pick up his option, he'll be in line for a guaranteed salary worth $18,622,514 next season. He could probably exceed that figure in terms of total value if he were to hit the open market and sign a new multiyear contract. However, in that scenario, he'd almost certainly have to accept a more modest starting salary for 2018/19.
Kanter, a former third overall pick, enjoyed a productive season for the Knicks after coming over in last September's Carmelo Anthony trade with Oklahoma City. In 71 games (all starts), he averaged a double-double, recording 14.1 PPG and 11.0 RPG.
In the wake of his solid 2017/18 showing, Kanter said in his exit interview with the media that he was leaning toward opting out of his deal to sign a longer-term agreement. However, agent Mark Bartelstein quickly walked back his client's comments, saying that it was too early to make any decisions. Kanter claimed earlier this week that he'd draw interest from at least four or five teams if he were to opt out.
Assuming Kanter formally exercises his option, it will essentially eliminate the Knicks' chances of creating cap room for the 2018 offseason, barring major trades or cuts. Kanter's $18MM+ cap hit would increase New York's total team salary to approximately $94MM for 10 players. That figure doesn't count non-guaranteed salaries for Trey Burke or Troy Williams.
Photo courtesy of USA Today Sports Images.