Incredibly, prior to their recent playoff drought, the Lakers had never missed the postseason for more than two consecutive years. The current streak is now up to five straight non-playoff seasons. While this stretch of futility is certainly a source of angst for Lakers fans and many in the organization, the team has taken the right approach to roster-building since new president of basketball operations Magic Johnson and general manager Rob Pelinka took the reins in 2017.
Rather than trying to force their way back into contention by signing non-stars to lucrative free agent contracts, as the franchise did with Timofey Mozgov and Luol Deng back in 2016, the current Lakers management group has focused on developing the team's young players, complementing those prospects with veterans on short-term deals.
The Lakers being the Lakers, it's only a matter of time before the club once again makes a splash in the free agent market. When that happens though, the team will set it sights on the very best available players, and may not be willing to settle for second- or third-tier options.
Here are five key questions facing the franchise this summer:
1. Can the Lakers land a top free agent or two?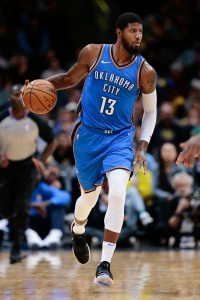 It's no secret that the Lakers will head into the 2018 offseason looking to secure commitments from at least one – and potentially two – of the elite free agents on the market. Kevin Durant and Nikola Jokic are viewed as slam dunks to return to their respective teams, Chris Paul is a virtual lock to re-sign in Houston, and DeMarcus Cousins' Achilles recovery clouds his outlook.
That leaves two primary targets for Los Angeles: LeBron James and Paul George. While James would be the dream addition, George appears to be the more realistic one. A Los Angeles native, George has reportedly been thinking about joining the Lakers for some time, and a first-round exit in Oklahoma City this spring didn't exactly increase the Thunder's chances of bringing him back.
If the Lakers could strike a deal with George, it would make James' decision very interesting. LeBron will have a number of appealing options to consider, including possibly going to Houston or Philadelphia, but heading to Hollywood might be the best move for his brand. Adding James and George to a promising young core that includes Lonzo Ball, Brandon Ingram, and Kyle Kuzma would make the Lakers a very attractive destination for role-playing veterans looking to join a contender.
2. What's Plan B if the Lakers miss out on their primary targets?

While the Lakers could make compelling pitches to George and James, there's no guarantee that either player will decide to head west. The franchise needs to be prepared to quickly change course if it becomes clear that those top free agents aren't coming.
Using all their cap room to sign lesser free agents to long-term deals would be a mistake, and one that the Lakers can't afford to repeat after committing approximately $136MM to Mozgov and Deng in 2016. Johnson and Pelinka recognize that, which is why we've heard whispers all year that the Lakers would be happy to preserve their cap flexibility for 2019.
Kawhi Leonard, Klay Thompson, Kyrie Irving, Jimmy Butler, Kemba Walker, and Kevin Love are among the players who can become unrestricted free agents in 2019, so the Lakers could have plenty of options a year from now. For what it's worth, Leonard, Thompson, and Love were all born in Los Angeles.
While waiting until 2019 to spend big on long-term deals is a viable route for the Lakers, they'll need to get to the salary floor in 2018/19 somehow. That could mean signing or acquiring more players on one-year contracts, like they did with Kentavious Caldwell-Pope and Brook Lopez last summer. Exploring trade options makes sense too — someone like Leonard could be available now, a year before he reaches free agency, so the Lakers will want to kick the tires and find out the Spurs' asking price.
3. Is Julius Randle a part of the Lakers' young core?

One wild card impacting the Lakers' free agent plans is Randle, who looked early last season like a player who might be moved at the trade deadline. The former seventh overall pick broke out in a big way once he was inserted into the starting lineup in late December, averaging 18.6 PPG, 9.1 RPG, and 3.1 APG in his last 49 games. Now, he looks like a potential keeper for Los Angeles.
Still, simply re-signing Randle isn't necessarily the obvious move for the Lakers, whose path to two maximum-salary free agents spots would be complicated by the big man's $12.45MM cap hold. If a team like the Mavericks swoops in and signs Randle to an aggressive offer sheet early in free agency, the Lakers will be under pressure to get decisions from George and/or James before determining how to handle Randle.
If Randle does sign an offer sheet with another team, the 48-hour window for the Lakers to match wouldn't start until July 6, so the team will have some breathing room at the start of the new league year to get its affairs in order. Additionally, signing two max free agents and keeping Randle around isn't technically impossible. But a lucrative new contract for the 23-year-old would have a ripple effect on the Lakers' free agent plans in 2018 and possibly 2019 too, so it'll be a crucial decision.
4. Is this the time to waive and stretch Luol Deng?

The Lakers may not be willing to attach a first-round pick or a young player to Deng's contract to move him, preferring to save their assets by simply cutting him. Waiving and stretching Deng this offseason would reduce his 2018/19 cap hit from $18MM to just $7.36MM. Of course, it would also extend his cap charges for a few extra years — rather than coming off the books in 2020, he'd remain on L.A.'s cap until 2023 if he's waived and stretched before September 1.
Ultimately, the decision on what to do with Deng figures to come down to how the rest of the Lakers' offseason plays out. If L.A. doesn't need that extra $10MM+ in cap space, there's no reason for the team to rush into a roster move with the veteran forward.
In a scenario where the Lakers strike out on top free agents, waiting until September to make a call on Deng would make sense. If he's still on the roster beyond August 31, Deng's full 2018/19 salary would remain on the Lakers' cap at its current $18MM figure, but the team could stretch his 2019/20 salary ($18.81MM) across three seasons, creating a little extra flexibility for 2019.
5. Can the Lakers nab another late-first-round steal?

No. 2 overall pick Ball dominated the offseason conversation in Los Angeles a year ago, arriving in the NBA from UCLA and promptly leading the Lakers' Summer League squad to a championship. Once the regular season started though, it was 27th overall pick Kuzma who was the team's most impressive rookie, posting 16.1 PPG and 6.3 RPG with a .450/.366/.707 shooting line for the year.
The second-half play of No. 30 pick Josh Hart shouldn't be overlooked either. From the start of February through the end of the season, Hart averaged 14.1 PPG and 7.3 RPG on .506/.440/.766 shooting.
Most teams' success rate on late first-round picks isn't particularly high, but it looks like the Lakers went two for two in 2017. This time around, the team won't have its own lottery pick, but holds Cleveland's selection (No. 25), giving the front office another chance to strike gold late in the first round.
It's hard to say who will be available at that point, but the Lakers have been linked frequently to Mitchell Robinson, who is something of a mystery man after not playing a single college game. Whether he's the Lakers' guy or the team goes in another direction, that player will be worth keeping an eye on after the early success of Kuzma and Hart.
---
Here's where things currently stand for the Lakers financially:
Guaranteed Salary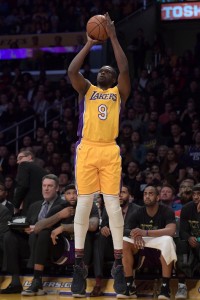 Luol Deng ($18,000,000)
Lonzo Ball ($7,461,960)
Brandon Ingram ($5,757,120)
Kyle Kuzma ($1,689,840)
Josh Hart ($1,655,160)
Total: $34,564,080

Player Options
Team Options
Non-Guaranteed Salary
Restricted Free Agents
Julius Randle ($5,564,134 qualifying offer / $12,447,726 cap hold): Bird rights
Travis Wear ($1,699,698 qualifying offer / $1,699,698 cap hold): Non-Bird rights
Andre Ingram ($1,537,872 qualifying offer / $1,537,872 cap hold): Non-Bird rights
Total: $15,685,296
Unrestricted Free Agents / Other Cap Holds
Brook Lopez ($33,963,525): Bird rights
Kentavious Caldwell-Pope ($21,295,073): Non-Bird rights
Channing Frye ($14,099,733): Bird rights
Isaiah Thomas ($11,896,651): Bird rights
No. 25 overall pick ($1,746,957)
Total: $83,001,939
Projected Salary Cap: $101,000,000
Projected Cap Room: $48,084,682

A handful of wild cards will impact how much cap room the Lakers have – or need – this summer. For our projection, we've assumed they keep all five players on guaranteed contracts along with cap holds for Randle, their first-round pick, and five empty roster spots. That results in a total team salary of $52,915,318.
If landing two star free agents looks like a realistic possibility, Los Angeles could create the room necessary for a pair of max contracts. For instance, by waiving and stretching Deng, renouncing Randle, and trading their first-round pick, the Lakers could create $70,423,432 in space. Ultimately, their approach to the offseason may be dictated by how their conversations with those top free agents go.
Footnotes:
Ennis' salary becomes fully guaranteed after July 5.
Zubac's salary becomes fully guaranteed after June 30.
Bryant's salary becomes fully guaranteed after July 5.
Note: Rookie scale cap holds are estimates based on salary cap projections and could increase or decrease depending on where the cap lands.
Salary information from Basketball Insiders was used in the creation of this post. Photos courtesy of USA Today Sports Images.