The Heat haven't returned to legit title contention since LeBron James' departure in 2014, but the team hasn't bottomed out either. After finishing the 2016/17 season on a 30-11 run, Miami carried some of that momentum over to 2017/18, winning 44 games and grabbing the No. 6 seed.
Thanks to a couple injuries to Eastern Conference players this year, the Heat now technically have an All-Star on their roster in Goran Dragic, but the squad still lacks the star power to compete with the league's very best teams. With team president Pat Riley opposed to a full-fledged rebuild, the Heat will have to find a way to close that talent gap without a top draft pick — and, at least for now, without any cap room either.
Here are five key questions facing the franchise this summer: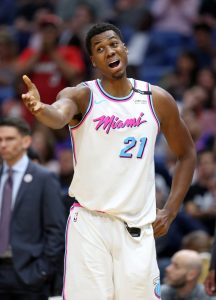 1. Will the Heat trade Hassan Whiteside?

After leading the NBA in blocked shots in 2015/16 and rebounding in 2016/17, Whiteside battled injuries last season and saw his playing time cut back even when he was healthy. The veteran center still comfortably averaged a double-double (14.0 PPG, 11.4 RPG), but Bam Adebayo or Kelly Olynyk often earned crunch-time minutes at the five, and Whiteside's playing time was reduced even further in the postseason against Joel Embiid and the Sixers.
As his on-court role has decreased, Whiteside has publicly griped about his role in South Beach, prompting trade speculation for the coming offseason. The big man could probably use a change of scenery, and the Heat seem happy to accommodate a move, but a massive $25MM+ cap hit will complicate trade talks.
The Heat figure to thoroughly explore the trade market in search of a taker for Whiteside, with the Bucks and Wizards among the possible fits, but his value isn't positive at this point. In order to acquire a first-round pick or a promising young player, Miami would have to take on at least one contract worse than Whiteside's.
2. Which other Heat players are on the trade block?

Whether or not the Heat can move Whiteside, he won't be the only player whose name comes up in trade rumors this summer. With six other players set to earn between $9-20MM in 2018/19, Miami could put together a number of different packages in trade discussions.
While no player on the roster is untouchable, I don't expect the Heat to seriously consider moving Goran Dragic ($18.11MM), Josh Richardson ($9.37MM), or Adebayo ($2.96MM) unless the return is too good to pass up. On the other end of the spectrum, the Heat probably wouldn't mind dealing Tyler Johnson ($19.25MM) or Dion Waiters ($11.55MM), but those players – like Whiteside – may be overpriced based on their respective roles and production.
Outside of the players the Heat won't want to trade and the ones that won't appeal to potential trade partners, James Johnson ($14.65MM), Olynyk ($11.14MM), and Justise Winslow ($3.45MM) are the other vets who could be in play. Winslow, in particular, is an intriguing trade chip for the Heat.
While Miami certainly isn't ready to throw in the towel on the former lottery pick, he hasn't developed as quickly as the franchise might have hoped. A restricted free agent in 2019, Winslow would come with several more years of team control and could be attached to a more expensive player in a trade package. If the Heat make a major move this summer, I wouldn't be surprised to see Winslow involved.
3. Will the Heat go shopping for a star again?

The Heat's 2010 offseason shopping spree will go down as one of the best in NBA history, but the team has had a hard time replicating that free agent success in recent years. While Miami earned meetings with star free agents like Kevin Durant and Gordon Hayward, the club has been unable to secure those top targets.
Rather than continuing to preserve cap room for future pursuits, the Heat used last year's room to sign a handful of solid players to lucrative long-term contracts. As a result, the club already has about $118MM in total team salary on its books for 2018/19, all but eliminating the chances of landing a top free agent.
With little flexibility to make a free agent splash, the Heat will have to turn to the trade market if they want to have any chance of landing a star-caliber player. We've already discussed their potential chips — would any of those chips be enough to put together a competitive package for a player like Kawhi Leonard? Maybe. Dragic, Winslow, and Miami's unprotected 2019 first-rounder are good assets.
Any trade package the Heat put together probably won't match what asset-rich teams like the Sixers, Celtics, or Suns could offer, but the team with the most assets doesn't always win trade market bidding wars — no one expected the Thunder to outbid the Celtics for Paul George last summer, for instance. So while a blockbuster trade is probably unlikely for the Heat, the possibility shouldn't be ruled out entirely.
4. Will Dwyane Wade and Udonis Haslem be back?

Outside of a brief foray to Chicago and Cleveland for Wade, he and Haslem have been the faces of this franchise for the last 15 years. Haslem doesn't see much action anymore, but he's a key leader in the locker room. As for Wade, he isn't the same player he was in his prime, but he showed in the playoffs that he's still got something left in the tank.
The two veterans have said they'll talk to each other about their plans for next season, with retirement a possibility. If they do decide to keep playing, it will almost certainly be with the Heat. Re-signing Haslem wouldn't cost more than the minimum for the Heat, but Wade may be a trickier case. Because the future Hall-of-Famer was on a one-year, minimum-salary contract last year, the Heat don't hold his Bird rights. So if he wants more than the minimum next season, re-signing Wade would likely require a portion of the team's mid-level exception.
The Heat certainly won't turn Wade away if he wants to come back at a reasonable price, but given the team's proximity to the tax line, every dollar will be important. Getting Wade back on a minimum deal would be the best outcome for the club.
5. Will the Heat re-sign Wayne Ellington?

Of course, it's not Wade or Haslem but Ellington who will be the Heat's most important unrestricted free agent this summer. The 30-year-old shooting guard provided some much-needed outside shooting for the Heat in 2017/18, leading the team with 2.9 three-pointers per game and knocking them down at a 39.2% rate. Now, he'll hit the open market.
The Heat have Ellington's Early Bird rights, which will allow the team to offer a starting salary up to $10.97MM for the veteran marksman. Miami might not have to go that high, but it wouldn't be a surprise if rival suitors offer their full mid-level exceptions to Ellington, so the Heat's offer would probably have to be in the $8.5MM range.
Once again, the Heat's proximity to the tax line could be problematic as the front office weighs its decision on Ellington. Re-signing him would mean either becoming a taxpayer or needing to shed salary elsewhere to avoid the tax. But if they let Ellington walk, the Heat – who don't have a pick in this year's draft – will have a tough time finding a shooter capable of approximating his production. It will be interesting to see which way the team goes on its top three-point shooter.
---
Here's where things currently stand for the Heat financially:
Guaranteed Salary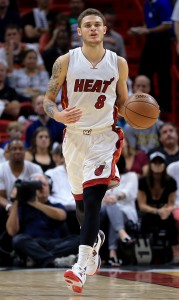 Hassan Whiteside ($25,434,263)
Tyler Johnson ($19,245,370)
Goran Dragic ($18,109,175)
James Johnson ($14,651,700)
Dion Waiters ($11,550,000)
Kelly Olynyk ($11,137,527)
Josh Richardson ($9,367,200)
Justise Winslow ($3,448,926)
Bam Adebayo ($2,955,840)
A.J. Hammons ($350,088) — Waived via stretch provision
Total: $116,250,089

Player Options
Team Options
Non-Guaranteed Salary
Restricted Free Agents
Jordan Mickey ($1,839,228 qualifying offer / $1,839,228 cap hold)
Total: $1,839,228
Unrestricted Free Agents / Other Cap Holds
Wayne Ellington ($8,151,000): Early Bird rights
Luke Babbitt ($1,499,698): Non-Bird rights
Udonis Haslem ($1,499,698): Bird rights
Dwyane Wade ($1,499,698): Non-Bird rights
Total: $12,650,094
Projected Salary Cap: $101,000,000
Projected Cap Room: None

Even without re-signing Ellington, Wade, or any other free agents, the Heat project to be way over the cap. Their nine guaranteed salaries, McGruder's non-guaranteed salary, and cap charges for two roster spots add up to a total team salary of $119,457,662. The Heat are likely headed for tax territory unless they can cut costs in a trade or two.
Footnotes:
McGruder's salary becomes fully guaranteed after June 30.
Note: Rookie scale cap holds are estimates based on salary cap projections and could increase or decrease depending on where the cap lands.
Salary information from Basketball Insiders was used in the creation of this post. Photos courtesy of USA Today Sports Images.