The Bucks were a popular preseason pick to grab a top-four seed in the Eastern Conference and perhaps even win a playoff series for the first time since 2001. However, despite a huge year from Giannis Antetokounmpo, Milwaukee struggled to string together wins. The team fired its head coach midway through the season, claimed the No. 7 seed in the East, and was once again knocked out of the postseason in the first round.
With little cap flexibility to go out and make major additions to their roster, the Bucks may have to rely primarily on a new head coach and further internal development in order to take a step forward next season.
Here are five key questions facing the franchise this summer: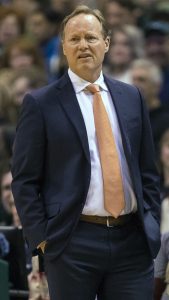 1. Is Mike Budenholzer the right head coach for the Bucks?

Budenholzer was linked to the Bucks' job shortly after the team fired Jason Kidd, back when Budenholzer was still coaching the Hawks and Joe Prunty was the interim head coach in Milwaukee. He didn't officially secure the position until months later, but the fact that his interest in the Bucks apparently predated his departure from Atlanta is a signal that Budenholzer is excited about the job ahead.
During his introductory press conference, Budenholzer spoke specifically about wanting to unlock the Bucks' defensive potential, which is an intriguing possibility. Budenholzer's best squads in Atlanta were among the NBA's top defensive teams, and Milwaukee has the personnel to create problems for opponents on that end of the court.
With athletic, rangy players like Antetokounmpo, Eric Bledsoe, John Henson, Tony Snell, and Thon Maker on the roster, the Bucks should have a better defensive rating than they did in 2017/18 (110.1; 19th in the NBA). While his impact on the offense will be interesting to monitor too, I'll be curious to see how much influence Budenholzer can have on D.
2. Will the Bucks re-sign Jabari Parker?

Parker's free agency will probably fly somewhat under the radar in an offseason when players like LeBron James, Paul George, and DeMarcus Cousins could change teams. However, this is a former second overall pick who has a 20+ PPG season under his belt and is still just 23 years old. It will be fascinating to see what sort of interest he receives as a restricted free agent.
Although Parker's per-minute production and shooting numbers in 2017/18 were solid for a player coming off his second ACL surgery, he was somewhat inconsistent, and the Bucks were a better team offensively and defensively when he was off the court. That up-and-down play may limit Parker's earning potential this summer, particularly with so few teams around the NBA carrying significant cap room.
While it's possible a club with space like the Bulls, Mavericks, or Suns makes a strong play for Parker, forcing Milwaukee to make a tough decision, it wouldn't surprise me if the former Blue Devil finds himself unsigned after most of the cap room around the NBA has dried up. In that scenario, the Bucks could play hardball in negotiations for a long-term deal, perhaps locking up Parker for about half of the maximum salary, rather than the near-max contract he once seemed on track for.
It's also not out of the realm of possibility that Parker could sign his qualifying offer this summer with an eye toward increasing his stock in time for unrestricted free agency in 2019. Either way, barring an unexpectedly aggressive offer sheet from a team with cap room, the Bucks appear to be in good position to retain Parker, assuming they want to do so.
3. Which players will be on the trade block?

Antetokounmpo and Khris Middleton are probably the only two untouchable players on the Bucks' roster this offseason, but that doesn't mean the team will be looking to move Bledsoe, Snell, Maker, or Malcolm Brogdon. Instead, the most logical trade chips on the roster are probably Matthew Dellavedova and Henson.
A beneficiary of the 2016 free agency boom, Dellavedova has two years and $19MM+ remaining on his four-year contract. While the Bucks initially signed him for his toughness and extensive playoff experience, Dellavedova's on-court production and role declined in 2017/18, when he averaged just 4.3 PPG and 3.8 APG in 18.7 MPG (38 games). With Bledsoe and Brogdon handling point guard duties, the Bucks would probably be better off with a cheaper third option off the bench, but Dellavedova won't have much value as a trade chip.
As for Henson, he emerged as Milwaukee's starting center last season, rewarding the team for its trust in him with decent numbers (8.8 PPG, 6.8 RPG, 1.4 BPG). However, the big man is still very limited on offense and has trouble playing in certain matchups. He's also not cheap, with two years and $20MM+ left on his deal, though his declining cap hits could appeal to a potential Bucks trade partner.
4. Can the Bucks upgrade the center position?

If the Bucks do make a trade, they figure to focus on the center position. The combination of Henson and Dellavedova isn't particularly tantalizing, but attaching a first-round pick to the duo could pique the interest of some teams. Even though the Bucks' 2019 first-rounder is committed to Phoenix, they could move their No. 17 selection this year — they'd just have to draft the player themselves, then officially complete the trade after the fact in order to avoid running afoul of the Ted Stepien rule.
Hassan Whiteside, DeAndre Jordan, Tristan Thompson, Robin Lopez, Jonas Valanciunas, and Mason Plumlee are among the highly-paid veteran centers the Bucks could inquire on. Dwight Howard also might fit the club's price point, but probably isn't eager for a reunion with Budenholzer after having his stint in Atlanta end poorly last year.
If the Bucks can't find a trade that works, it's possible they'll turn to the free agent market and look for a lower-cost option with their mid-level exception. Brook Lopez, Kyle O'Quinn, and Dewayne Dedmon could be targets.
5. What will the Bucks do with the No. 17 pick?

While the Bucks could address the center spot with their first-round pick, there aren't a ton of intriguing young centers who will be available after the lottery. And many of the ones expected to be on the board, such as Mitchell Robinson, would likely be projects who wouldn't be ready to contribute right away.
If the Bucks keep their first-round pick, they might be better off adding a young player to their backcourt or wing rotation. Troy Brown and Zhaire Smith would be candidates if they're still available. Boston College point guard Jerome Robinson, who is Milwaukee's pick in Jonathan Givony's most recent ESPN.com mock draft, would be another viable option, as would fellow point guard Aaron Holiday.
One prospect I'd have my eye on if I were the Bucks is Keita Bates-Diop. At 22 years old, he's more ready than many other first-round prospects to compete for playing time right away, and his defensive versatility – and his ability to make outside shots – would make him a good fit on an athletic Milwaukee roster.
---
Here's where things currently stand for the Bucks financially:
Guaranteed Salary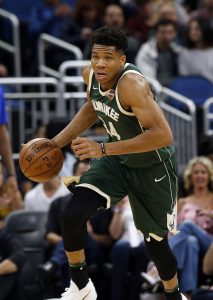 Giannis Antetokounmpo ($24,157,304)
Eric Bledsoe ($15,000,000)
Khris Middleton ($13,000,000)
Tony Snell ($10,607,143)
John Henson ($10,577,466)
Matthew Dellavedova ($9,607,500)
Mirza Teletovic ($3,500,000) — Waived via stretch provision
Thon Maker ($2,799,720)
D.J. Wilson ($2,534,280)
Spencer Hawes ($2,007,058) — Waived via stretch provision
Larry Sanders ($1,865,546) — Waived via stretch provision
Sterling Brown ($1,378,242)

Total: $97,034,259

Player Options
Team Options
Non-Guaranteed Salary
Restricted Free Agents
Unrestricted Free Agents / Other Cap Holds
Projected Salary Cap: $101,000,000
Projected Cap Room: None

While trades or cuts could open up some cap room for the Bucks, they're far more likely to remain an over-the-cap team this summer. Their nine guaranteed contracts, plus Brogdon's non-guaranteed salary, Parker's cap hold, and the cap hold for their first-round pick bring the Bucks' total team salary to $105,373,063, which is over the cap, but comfortably below the projected tax line.
Footnotes:
Jennings' salary becomes fully guaranteed after July 1.
Brogdon's salary becomes fully guaranteed after July 1.
Note: Rookie scale cap holds are estimates based on salary cap projections and could increase or decrease depending on where the cap lands.
Salary information from Basketball Insiders was used in the creation of this post. Photos courtesy of USA Today Sports Images.