After the in-season acquisition of DeMarcus Cousins didn't pay immediate dividends for the Pelicans down the stretch in 2016/17, head coach Alvin Gentry and GM Dell Demps weren't a lock to stick with the team last summer. New Orleans retained both, however, and the club was rewarded for its patience with its best regular-season record since 2009 and its deepest playoff run since 2008.
With Anthony Davis having become a perennial MVP candidate and Jrue Holiday establishing himself as one of the NBA's best perimeter defenders, the Pelicans have a pair of building blocks under contract for multiple years. Now, the team will have to figure out how to retain enough pieces around those two stars to remain in contention going forward, particularly with two major contributors – Cousins and Rajon Rondo – up for new deals.
Here are five key questions facing the franchise this summer: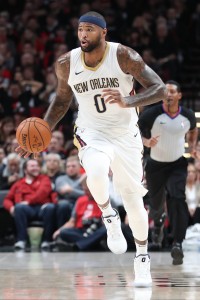 1. Will the Pelicans re-sign Cousins?

In 48 games before he tore his Achilles tendon, Cousins put up some truly incredible numbers, racking up 25.2 PPG, 12.9 RPG, 5.4 APG, 1.6 BPG, and 1.6 SPG. For good measure, he also led the team with 2.2 three-pointers per contest.
That production made Cousins an obvious candidate for a long-term, maximum-salary contract, but his ongoing recovery from Achilles surgery complicates matters significantly. While Achilles tears aren't necessarily career-ending injuries, they're often career-altering ailments, with players never quite looking the same as they did prior to the injury.
There's no guarantee that will be the case with Cousins. It's possible he'll return to the court next season and look just as good as ever. However, that's virtually impossible to predict, and teams willing to gamble on that sort of prognosis will have to pony up the max – or something close to it – months before Cousins is ready to return to action to find out if they're right.
After giving up a slew of assets for Cousins just 16 months ago, the Pelicans probably can't afford to just let him walk for nothing, especially since doing so wouldn't get the team below the cap. That leaves two probable scenarios — either New Orleans brings back the ex-King, or the club negotiates a sign-and-trade deal to send him elsewhere.
Given the overlap between Davis' and Cousins' skill sets, the idea of signing-and-trading Cousins for a wing who might fit better alongside Davis and Holiday is intriguing. But sign-and-trades require two teams and the player to all be on the same page, and roadblocks can often get in the way of finalizing a deal. So that scenario might be a last resort for the Pelicans, whose preference will be to bring back Cousins on a shorter-term or less expensive deal that would mitigate the risk in case his Achilles continue to be an issue going forward. It remains to be seen whether the star center will be on board for that sort of contract or whether he'll receive better offers.
2. Will the Pelicans re-sign Rondo?

While Rondo isn't the sort of marquee free agent that Cousins is, the Pelicans won't overlook him this offseason. Not every stop in Rondo's NBA career has been a huge success, but teams that like him really like him, and that appeared to be the case in New Orleans, where he was credited for helping set the culture for a team that won 48 games and a playoff series.
Rondo is coming off a one-year, $3.3MM pact, and will be in line for a raise this summer. If the Pelicans bring back Cousins or sign-and-trade him for another highly-paid veteran, the club will have to be cautious about how much it offers Rondo.
New Orleans already has nearly $93MM in guaranteed money on its books for 2018/19, and re-signing Cousins could add another $25MM+ to that figure. If Rondo commands a salary in the $8-10MM range, the Pelicans would be into luxury-tax territory unless they can cut costs elsewhere.
That doesn't mean that Rondo won't return — it simply means that the franchise will have to think long and hard about where its priorities lie and how it wants to spends its money. I imagine the Pelicans will do all they can to make sure the veteran point guard is back on the roster next season.
3. How can the Pelicans trim salary?

The Pelicans currently have six players on guaranteed contracts worth more than the minimum for next season. Davis and Holiday aren't going anywhere, and Nikola Mirotic and E'Twaun Moore were important parts of last season's rotation, so they're not expendable either. That leaves Solomon Hill ($12.75MM) and Alexis Ajinca ($5.29MM) as potential trade or release candidates.
In theory, Hill is the exact sort of player the Pelicans could use. He knocked down 34.8% of his three-pointers in 2016/17 and can play either forward position. But he missed nearly the entire 2017/18 campaign due to a torn hamstring, and even when he's healthy and productive, he's probably overpriced. He has two years left on his contract and will have negative value as a trade chip, so he won't be easy to move, but getting his salary off the books could free up the Pelicans to retain both Cousins and Rondo without going into the tax, so the club will see if there's a way to do it.
Ajinca, whose 2017/18 season was also lost to health problems, has less on-court value than Hill at this point in his career, but he's less expensive and is entering a contract year, making him easier to move. If New Orleans can't find a taker, the club could waive him and stretch his salary over three seasons, reducing his '18/19 cap charge by $3.5MM+.
4. What will happen with the Pelicans' non-guaranteed players?

The Pelicans currently have four players with non-guaranteed salaries for 2018/19: Emeka Okafor ($2.45MM), Darius Miller ($2.21MM), DeAndre Liggins ($1.8MM), and Cheick Diallo ($1.54MM).
Of those four players, Miller is the best bargain and the strongest bet to be back at his current cap hit. After spending two years away from the NBA, Miller played all 82 games in 2017/18 and carved out a key role in the Pelicans' rotation, recording 7.8 PPG and a .411 3PT% in 23.7 MPG. The Pelicans' roster isn't exactly packed with sharpshooters, so getting a marksman like Miller back at an affordable rate should appeal to the club.
Liggins and particularly Okafor were solid in part-time action for New Orleans, but the competition for their services this summer likely won't be fierce. If they want them back, it might make sense for the Pelicans to waive them and re-sign them on one-year contracts — doing so would save the team about $1MM in cap charges, since the NBA covers a portion of a player's salary on a one-year, minimum-salary deal. If the Pelicans approach tax territory, every dollar will matter, so those savings wouldn't be insignificant.
As for Diallo, he's still just 21 years old, and he started seeing more regular playing time in the second half last season. I wouldn't expect the Pelicans to give up on him at this point, so he figures to return.
5. Is the Pelicans' success sustainable with no pipeline of top young talent?

Since they drafted Davis with the No. 1 overall pick in 2012, the Pelicans' first-round picks have looked like this:
2013: Traded for Holiday.
2014: Traded for Holiday.
2015: Traded for Omer Asik and Omri Casspi.
2016: Buddy Hield (Later traded for Cousins).
2017: Traded for Cousins.
2018: Traded for Mirotic.
With the exception of the ill-advised Asik/Casspi deal, the players the Pelicans have acquired for their first-round picks have been good ones — if Cousins re-signs, they'll all be key parts of next year's roster. And there's nothing inherently wrong with repeatedly trading first-round picks for veteran players if those trades are successful.
Still, the fact that the Pelicans don't have a single player on their roster who is on a rookie-scale contract is a key reason why the team's roster is getting expensive and why it will be difficult to add solid complementary pieces around their stars. The best way for good teams to stay good is to keep adding inexpensive, controllable role players to the mix, and the draft represents the best way to do just that.
The Pelicans do have some youngsters on the roster, and it's possible Diallo and/or Frank Jackson will eventually evolve into reliable contributors. But the club needs to make an effort to keep adding that sort of player to the mix. Otherwise, by the time Davis becomes eligible for his next contract, the Pels risk having surrounded him with aging, overpriced veterans and having little flexibility to get younger.
---
Here's where things currently stand for the Pelicans financially:
Guaranteed Salary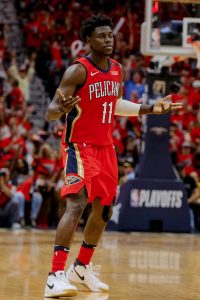 Jrue Holiday ($26,131,111)
Anthony Davis ($25,434,262)
Nikola Mirotic ($12,500,000)
Solomon Hill ($12,252,928)
E'Twaun Moore ($8,808,685)
Alexis Ajinca ($5,285,394)
Frank Jackson ($1,378,242)
Cheick Diallo ($500,000) — Partial guarantee. Non-guaranteed portion noted below.1

Total: $92,290,622

Player Options
Team Options
Non-Guaranteed Salary
Emeka Okafor ($2,445,085)2
Darius Miller ($2,205,000)3
DeAndre Liggins ($1,795,015)4
Cheick Diallo ($1,044,951) — Partial guarantee. Guaranteed portion noted above.1
Total: $7,490,051
Restricted Free Agents
Unrestricted Free Agents / Other Cap Holds
DeMarcus Cousins ($27,095,775): Bird rights
Rajon Rondo ($3,960,000): Non-Bird rights
Jordan Crawford ($1,499,698): Early Bird rights
Ian Clark ($1,499,698): Non-Bird rights
Donatas Motiejunas ($1,499,698): Non-Bird rights
Total: $35,554,869
Projected Salary Cap: $101,000,000
Projected Cap Room: None

Even if the Pelicans were to renounce all their free agents and waive all their non-guaranteed salaries, their total team salary would still reach a minimum of $96,447,177, creating less than $5MM in cap room. The mid-level exception projects to be worth about $8.57MM, so New Orleans is better off remaining an over-the-cap team. Plus, cap holds for Cousins and Rondo would put the club way over the cap anyway.
Footnotes:
Diallo's salary becomes fully guaranteed after July 7.
Okafor's salary becomes guaranteed for $100K after July 12.
Miller's salary becomes guaranteed for $300K after June 28, then fully guaranteed after July 24.
Liggins' salary becomes guaranteed for $50K after July 15, then guaranteed for $75K after July 30.
Salary information from Basketball Insiders was used in the creation of this post. Photos courtesy of USA Today Sports Images.