The 2017/18 season was essentially a best-case scenario for the Sixers and true believers in "The Process." Former top picks Joel Embiid and Ben Simmons stayed healthy and established themselves as bona-fide NBA stars, and despite getting virtually nothing from 2017's No. 1 selection Markelle Fultz, the Sixers piled up 52 wins, earned the No. 3 seed in the East, and advanced to the second round of the playoffs.
Fultz's lost rookie season is somewhat concerning, and it's not clear if Philadelphia is quite out of the woods yet when it comes to Embiid's health, but this is a team on the rise. With another lottery pick at their disposal in 2018, along with a significant chunk of cap room, the Sixers are also better positioned than just about any other contender to make another major addition or two to their roster this offseason.
Here are five key questions facing the franchise this summer: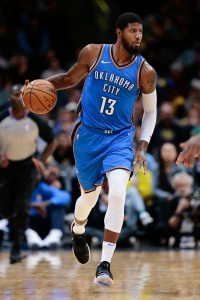 1. Will the Sixers be able to lure a top free agent to Philadelphia?

With a playmaking point guard (Simmons) and a big man who can knock down outside shots and protect the rim (Embiid), the Sixers have two key cornerstone pieces in place. Using this summer's cap flexibility, the club should now make it a priority to add a wing with size who can stretch the floor. Fortunately, two of 2018's top free agents – LeBron James and Paul George – fit that bill.
If he wants to continue his streak of NBA Finals appearances and add more titles to his résumé, Philadelphia is a logical landing spot for James. The club should be able to create enough cap space to sign him outright, meaning there would be no need to give up valuable assets to acquire him in a trade. On top of that, this is a team that already had enough talent to win 52 games and a playoff series. Adding LeBron to the mix would create a force to be reckoned with in the East.
Still, as silly as it feels to play devil's advocate to the idea of signing the best player in the NBA, I can't help but wonder if George makes more sense as a target for the 76ers. Embiid and Simmons put their mark in the franchise in 2017/18, establishing the Sixers as their team. They're still on the rise and have the potential to be the top two players on a championship club someday — having them take a back seat to LeBron might create some chemistry issues both on the court and off it.
Of course, if LeBron wants to join the Sixers, I don't expect the team to turn him down, and I'm sure it'd be a fine fit in the long run. But if landing James is the club's No. 1 offseason priority, George makes for an intriguing 1A. His stints in Indiana and Oklahoma City have shown that he may be more comfortable when he's not a club's go-to option, and he's exactly the sort of player any contending team would love to have as a second or third scoring option and a lock-down defender on the wing.
2. What's the best route to maximum-salary cap room for the Sixers?

Whether they pursue James, George, another impact free agent, or all of the above, the Sixers will probably need to create a little more cap room than they currently have available. Our estimate currently has them about $25MM under the cap, assuming they keep their nine players on guaranteed contracts, along with T.J. McConnell, Richaun Holmes, and their two first-round picks.
Based on a $101MM salary cap projection for 2018/19, the Sixers would have to get to $30.3MM in room for a maximum-salary deal for George or another free agent with 7-9 years of NBA experience. For James or another player with 10+ years of experience, $35.35MM in cap room would be required.
The 76ers can actually get to $30.3MM+ in cap room pretty painlessly without even having to get another team involved. Using their No. 26 pick on a draft-and-stash prospect and waiving and stretching Bayless' expiring contract would do the trick.
However, in order to get to $35MM+ in space, attaching that late first-round pick to Bayless in a trade would be the preferred option. If the Sixers were to package Bayless and the No. 26 pick in a trade without taking back any salary in return, the club could then create enough room for a $35.35MM offer by waiving one of Holmes or McConnell.
With plenty of appealing assets under team control, there are other paths Philadelphia could take to open up cap room. If a marquee free agent targeted by the Sixers wants to sign with the team, the front office will find a way to make it happen.
3. What's Plan B for the Sixers?

If James and George return to their current teams or team up on the Lakers, which direction will the Sixers go? There are other free agents out there who could fit nicely on the roster, but Philadelphia should avoid investing long-term money in a second- or third-tier target just because that money is available.
The Sixers still have enough future cap flexibility that they can afford to look to 2019's free agent period as a backup plan. Preserving as much cap room as possible for '19 would mean taking a similar approach this offseason to the one they took last year, when they signed veterans like J.J. Redick and Amir Johnson to lucrative one-year contracts. Now that the 76ers have had some real success, there are probably plenty of useful rotation players who would sign on for that sort of deal — I'd expect Redick to be one of them.
Philadelphia could also take advantage of its cap flexibility on the trade market. Kawhi Leonard looks like a prime target for the Sixers, who could structure an offer to the Spurs in a number of ways. Because the Sixers have excess cap room, they wouldn't necessarily have to match Leonard's salary, meaning they could put together a package heavy on draft picks and light on players. Alternately, if San Antonio asks for a couple players from the Fultz/Robert Covington/Dario Saric group, the Sixers could add Bayless to the package and make a play for Leonard while retaining their cap space for an impact free agent or two.
4. What will the Sixers do with the No. 10 pick?

The Sixers could use the No. 10 pick as a centerpiece in a trade offer for a player like Leonard. They could also package it with other assets in an effort to move even higher in the draft, as has been rumored. But let's assume they stay put and pick a player at No. 10. Who are the best bets to become Sixers in that scenario?
Villanova's Mikal Bridges has been a popular target for the Sixers in mock drafts for several weeks, and there's reportedly strong mutual interest between the two sides. A three-and-D wing, Bridges would be an ideal fit in Philadelphia, and the fact that he's a local product is just a bonus.
Kevin Knox is another interesting option for the Sixers at No. 10, assuming he's still on the board. Like Bridges, Knox has shown the ability to knock down open shots and defend multiple positions. While his floor may be lower than Bridges', Knox could have the higher ceiling — there's a belief that he still has plenty of room to grow.
Drafting a point guard with their lottery selection after using the No. 1 overall pick to address that spot in back-to-back years seems unlikely for the Sixers, which reduces the odds of the club nabbing a player like Collin Sexton, Shai Gilgeous-Alexander, or Trae Young. If they do look at that group, Young might be the best fit alongside Simmons and Fultz, given his upside as a three-point shooter. He made 118 threes in just 32 games for Oklahoma last season. Gilgeous-Alexander's versatility could also appeal to the 76ers.
5. How will not having a permanent general manager impact the Sixers' offseason?

In one of the most bizarre NBA stories in recent years, 76ers president of basketball operations and GM Bryan Colangelo was dismissed by the team earlier this month after investigators confirmed that his wife had been operating "burner" Twitter accounts that criticized Sixers players and disclosed sensitive information about the franchise.
With Colangelo out of the picture, head coach Brett Brown is running the team's basketball operations department on an interim basis. VP of player personnel Marc Eversley and VP of basketball operations Ned Cohen will play significant roles too.
The upheaval in the front office shouldn't affect the Sixers' draft plans, as the team's board was likely all but set several weeks before June 21. But it will be interesting to see how eager or reluctant Philadelphia is to pull the trigger on major free agent signings or trades this summer. The time is ripe for the Sixers to complete a significant roster move or two, and I don't expect the club to take a quiet, conservative approach to the offseason while it waits for ownership to bring in a new GM.
---
Here's where things currently stand for the Sixers financially:
Guaranteed Salary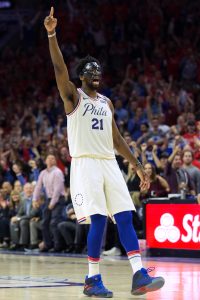 Joel Embiid ($25,250,000)1
Robert Covington ($10,464,092)
Jerryd Bayless ($8,575,916)
Markelle Fultz ($8,339,880)
Ben Simmons ($6,434,520)
Dario Saric ($2,526,840)
Justin Anderson ($2,516,048)
Furkan Korkmaz ($1,740,000)
Timothe Luwawu-Cabarrot ($1,544,951)
Total: $67,392,247

Player Options
Team Options
Non-Guaranteed Salary
Restricted Free Agents
Unrestricted Free Agents / Other Cap Holds
J.J. Redick ($27,600,000): Non-Bird rights
Amir Johnson ($13,200,000): Non-Bird rights
No. 10 overall pick ($3,522,533)
Anzejs Pasecniks ($1,746,957)2
No. 26 overall pick ($1,689,080)
Marco Belinelli ($1,499,698): Non-Bird rights
Ersan Ilyasova ($1,499,698): Non-Bird rights
Total: $50,757,966
Projected Salary Cap: $101,000,000
Projected Cap Room: $25,195,100

Our cap projection for the Sixers includes their nine guaranteed contracts, non-guaranteed salaries for Holmes and McConnell, and the cap holds for their two first-round picks. That cap projection, which adds up to a total team salary of $75,804,900, involves renouncing all their own free agents, including Redick.
Footnotes:
Embiid will have a maximum salary worth 25% of the salary cap. This projected max salary is based on a $101MM cap, but it could be higher or lower depending on where the cap lands.
Pasecniks was the Sixers' 25th overall pick in 2017, meaning his cap hold is equal to the rookie scale amount for this year's No. 25 pick. That cap hold will be removed if it's officially determined that Pasecniks won't sign with the Sixers for 2018/19.
Note: Rookie scale cap holds are estimates based on salary cap projections and could increase or decrease depending on where the cap lands.
Salary information from Basketball Insiders was used in the creation of this post. Photos courtesy of USA Today Sports Images.