For only the fifth time in the last two decades, the Spurs failed to win a playoff series in 2018. Of course, San Antonio did extend its incredible streak of postseason appearances to 21 in a row, and managed to post a 47-35 record despite only having Kawhi Leonard for nine games, so it's hard to consider the season a failure.
Still, the Spurs have long been considered the NBA's model franchise, establishing the sort of continuity and stability that other teams strive for, and that mystique was stripped away to some extent in 2017/18. A public fraying of the relationship between the Spurs and Leonard cast a cloud over the second half of the season, and that cloud continues to hover over the club heading into the offseason.
Here are five key questions facing the franchise this summer:
1. How will the Spurs resolve the Leonard situation?
It's possible that the apparent rift between the Spurs and Leonard's camp has been overstated, and a sit-down between the star forward and head coach Gregg Popovich will swiftly heal all wounds. But there has been too much smoke for there not to be at least a little fire in San Antonio, where the Spurs' medical team and Leonard's own doctors reportedly disagreed over the diagnosis and treatment of his quadriceps injury.
Leonard will be eligible for a super-max extension worth 35% of the salary cap this offseason, but the Spurs will have to think long and hard about putting that offer on the table. Such a deal would be worth over $40MM annually, so if the team has any reservations about Leonard returning to his All-NBA form in the coming years, it would be a scary investment.
On the other hand, the Spurs probably aren't eager to put Leonard on the trade block, since doing so would essentially mean admitting to a lack of confidence in the 26-year-old long-term outlook, reducing their leverage. San Antonio's top personnel executives could still probably find a reasonable return for Leonard, but he's a top-five player in the NBA when he's healthy, so the team will hope it doesn't come to that.
I'd expect the Spurs and Leonard to smooth things out, but we won't get a real sense of which direction this is going until that meeting between Leonard and Popovich happens. This will be one of the most important NBA storylines to watch in the coming weeks, and July 16 will be a date worth keeping an eye on — that's when Leonard will become eligible for that super-max extension.
2. Will Tony Parker and Manu Ginobili still be Spurs next season?

While Leonard's future is the most pressing question for the Spurs in terms of on-court impact, two of the team's other longtime stars also aren't locks to be back next season. Parker is headed for unrestricted free agency, while Ginobili is mulling the possibility of retirement.
It's probably early too say whether both players will return, but I'd lean in that direction. Ginobili continued to provide solid part-time minutes for the Spurs in 2017/28 and seems capable of playing at least one more season. With one year and $2.5MM left on his contract, it would make sense for him to play out that deal, then seriously consider calling it a career next summer.
As for Parker, his future in San Antonio is a little less certain. If he has no desire to go elsewhere, I could see him transitioning into a stage in his career where he starts signing shorter-term deals with the Spurs, adjusting his salary up or down depending on the club's cap situation, like Dirk Nowitzki has done in Dallas.
However, with Patty Mills on a lucrative long-term deal and Dejounte Murray emerging as the Spurs' starting point guard, Parker's role on the roster is less defined than it used to be. He averaged just 19.5 minutes per contest last season, easily the lowest mark of his career. If he returns, it will be at a much lower rate than the $15MM+ salary he earned in '17/18.
3. How will the player option decisions shake out?

Before the end of June, three Spurs players will have to make option decisions. Danny Green ($10MM), Rudy Gay ($8.83MM), and Joffrey Lauvergne ($1.66MM) will have the opportunity to either play out the final year of their respective contracts or hit unrestricted free agency. None of those decisions are automatic.
Of the three, Green is probably the most likely to opt out. A three-and-D wing who has knocked down 39.5% of his career three-pointers, Green hasn't put up huge numbers during his time in San Antonio, but he's the sort of player every team wants on its roster. Green, who will turn 31 next week, may not receive offers worth more than the mid-level, but a three-year, $25MM contract seems very much within reach and might be preferable to one year at $10MM.
Like Green, Gay isn't a lock to match his option salary on the open market, but could probably comfortably exceed that total on a multiyear deal. Still, he seemed to enjoy his first year in San Antonio, so I wouldn't be shocked if he opts in and looks to boost his value further in advance of 2019 free agency, when more teams will have cap room available.
As for Lauvergne, he was solid when given the opportunity to play for the Spurs. I think he's a good bet to pick up his option, but if he wants to try to find a larger role than he received in 2017/18 (9.7 MPG in 55 games), opting out of his minimum-salary deal wouldn't cost him anything — as long as he can find another guaranteed offer.
4. Will the Spurs re-sign Kyle Anderson?

In recent years, the Spurs have made a habit of building up the value of young contributors, only to watch them sign elsewhere. Aron Baynes, Boban Marjanovic, and Jonathon Simmons are among the players who have parlayed solid showings in San Antonio into lucrative multiyear deals elsewhere.
It's possible that Anderson will follow in the footsteps of those players. One recent report indicated that approximately seven teams will have interest in the restricted free agent this summer, so if even one puts an aggressive offer sheet on the table, the Spurs may be reluctant to match it.
As long as Leonard's future in San Antonio remains up in the air though, I'd expect the Spurs to make a stronger effort to retain Anderson than they have with some past RFAs. The 24-year-old was forced into a larger role in Leonard's absence and held his own, with 7.9 PPG on 52.7% shooting in 74 games (67 starts). He has proven he can be an important rotation player with or without Kawhi in the lineup.
5. How much longer will Popovich want to coach?

This question is either tangentially or directly related to virtually every personnel decision the Spurs make, not to mention the decisions the club's players will make. Longtime Spurs like Parker and Ginobili may only want to play in San Antonio as long as Popovich is on the sidelines. Similarly, Leonard may be reluctant to re-up with the Spurs on a long-term contract without knowing whether or not Popovich will still be coaching the team in two or three years.
Even after losing James Borrego to the Hornets this spring, the Spurs have a deep and talented staff of assistants, led by Ettore Messina, Ime Udoka, and Becky Hammon, all of whom interviewed for head coaching jobs within the last couple months. Those coaches are respected by the players, and if one of them takes over for Popovich a few years down the road, it will probably be a smooth transition.
Nonetheless, Popovich is a future Hall-of-Famer, not to mention the de facto president of basketball operations for the Spurs. When he leaves the franchise, it will represent the end of an era, and that day might not be too far off. Popovich is 69 years old and lost his wife Erin earlier this year — it's probably just a matter of time until he decides to trade in the NBA grind for more time with his family. One recent report suggested that most people don't expect him to keep coaching beyond the 2020 Olympics.
Popovich appears set to return for the 2018/19 season, so this isn't a question the Spurs will necessarily have to answer right away, but it's one that will loom over the team's longer-term outlook.
---
Here's where things currently stand for the Spurs financially:
Guaranteed Salary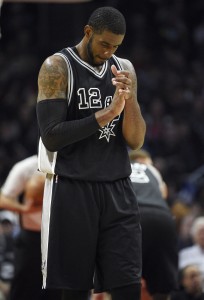 LaMarcus Aldridge ($22,347,015)
Kawhi Leonard ($20,099,189)
Pau Gasol ($16,800,000)
Patty Mills ($11,571,429)
Manu Ginobili ($2,500,000)
Tim Duncan ($1,881,250) — Waived via stretch provision
Derrick White ($1,667,160)
Dejounte Murray ($1,544,951)
Total: $78,410,994

Player Options
Team Options
Non-Guaranteed Salary
Restricted Free Agents
Kyle Anderson ($4,749,591 qualifying offer / $6,455,112 cap hold): Bird rights
Davis Bertans ($1,699,698 qualifying offer / $1,699,698 cap hold): Early Bird rights
Bryn Forbes ($1,699,698 qualifying offer / $1,699,698 cap hold): Early Bird rights
Total: $9,854,508
Unrestricted Free Agents / Other Cap Holds
Tony Parker ($23,179,689): Bird rights
No. 18 overall pick ($2,337,014)
Nikola Milutinov ($1,689,080)2
David Lee ($1,499,698)
Total: $28,705,481
Projected Salary Cap: $101,000,000
Projected Cap Room: $11,302,947

With so many player options and free agents to consider, the Spurs' projected cap room could change significantly – or disappear altogether – depending on who returns and who leaves. For our projection, we've counted the Spurs' seven guaranteed contracts, the cap holds for Anderson and the team's first-round pick, and cap charges for three empty roster spots. The result is a total team salary of $89,697,053.
That projection assumes that Green, Gay, and Lauvergne will all opt out, Paul will be waived, and all non-Anderson free agents – including Parker – will be renounced. That may not be realistic. If a couple of those players are back, the Spurs' cap room figures to dissipate quickly.
Footnotes:
Paul's salary becomes fully guaranteed after August 1.
Milutinov was the Spurs' 26th overall pick in 2015, meaning his cap hold is equal to the rookie scale amount for this year's No. 26 pick. That cap hold will be removed when it's officially determined that Milutinov won't sign with the Spurs for 2018/19.
Note: Rookie scale cap holds are estimates based on salary cap projections and could increase or decrease depending on where the cap lands.
Salary information from Basketball Insiders was used in the creation of this post. Photos courtesy of USA Today Sports Images.