The 2017/18 season was an exhausting one for the Cavaliers and it ended the only way it possibly could: in a four-game sweep at the hands of the Warriors. While LeBron James put forth an historically impressive showing this year, the squad just wasn't nearly deep enough to put another dent in Golden State's dynasty.
The biggest story in Cleveland this summer will obviously be James' forthcoming free agency. It's no secret that the 33-year-old will have multiple realistic options to mull over this summer and the Cavaliers will have little choice but to wait and see what he decides before they set out with the rest of their plans.
To general manager Koby Altman's credit, the franchise was impressively proactive at the trade deadline, adding several players who could be a part of a rebuild for years to come. And to team owner Dan Gilbert's credit, he promoted Altman, a general manager he wanted, when there was pressure from James' camp to retain David Griffin.
Expect the Cavs to welcome James back (and all the ensuing baggage) if the future Hall-of-Famer decides in earnest to end his career where it started, but my read of the situation is that Gilbert and company won't exactly grovel if the King starts leaning toward taking his talents elsewhere.
Jose Calderon, PG, 36 (Up) – Signed to a one-year, $2MM deal in 2017
It's hard to imagine Calderon signing on for anything more than the veteran's minimum at this stage in his career, but a solid enough 2017/18 campaign in which he started 32 games for the Cavaliers should be enough to earn him another contract. The Cavs won't have much use for the 36-year-old if they blow things up, so expect any decision regarding Calderon to come a little later in free agency.
Jeff Green, PF, 31 (Up) – Signed to a one-year, $2MM deal in 2017
It's hard to gauge Green's value considering he went from making $15MM in 2016/17 to the league minimum in 2017/18. Still, there's no denying he was a bargain for the Cavaliers at just over $2MM. Despite a limited ceiling, Green is a solid role player and could be an affordable depth piece for a competitive team in Cleveland or elsewhere.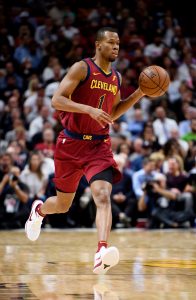 Rodney Hood, SG, 25 (Down) – Signed to a four-year, $6MM deal in 2014
Less than a year ago, Hood was in line to take over scoring duties for the suddenly Gordon Hayward-less Jazz. The swingman showed on a number of occasions in the first half of 2017/18 that he was capable of being a semi-reliable primary option on offense, but injuries and the rise of Donovan Mitchell complicated the restricted free agent's big contract year. A slow start in Cleveland, coupled with a lousy postseason and one particularly bad decision will limit his value even further. That said, if Hood draws an offer sheet in the $10MM-$14MM range this offseason, he could end up being a bargain.
LeBron James, PF, 33 (Up) – Signed to a three-year, $100MM deal in 2016
Despite rampant speculation about James' upcoming free agency, there's no clear indication about what the superstar will do. The growing narrative is that James doesn't have the supporting cast to compete with the likes of the superteams around him. While I'll submit that he and his representation are partly to blame considering their insistence on leveraging James in order to land players like Tristan Thompson and J.R. Smith albatross contracts, there's no denying that the Cavs' roster looked empirically overwhelmed by the vastly deeper Warriors in the NBA Finals.
James, who looks more formidable than ever now as a 33-year-old, will earn every single penny available to him wherever he signs, but while there will be considerably more pennies available to him if he stays in Cleveland, it's hard to imagine that somebody with a net worth of $400MM will base his decision entirely on wealth. Narrowing down where the King might land, then, comes down to figuring out his motives. If James wants to win rings he could either sign with the Sixers or squeeze his way onto the Rockets. If he wants to set himself up for life after basketball he should probably pack up the family and head over to join the Lakers. Of course, if James wants to preserve his uniquely complicated legacy, he should think long and hard about staying in Cleveland.
Kendrick Perkins, 33, C (Down) – Signed to a two-year deal in 2018
The Cavaliers added Perkins to their big league roster in the waning days of the regular season, but seem unlikely to pick up his option for 2018/19. While the veteran was brought on to provide an additional veteran voice in the locker room, his only notable feat in the postseason was getting into sideline altercation with Stephen Curry and Drake. Perkins is relatively young to be a symbolic elder statesmen, so there's always the possibility that he signs on with another contender in a similar enforcer-turned-unofficial coach role, but don't forget that he's only seen action in one NBA contest since the 2015/16 season. His career could just as easily be over.