JUNE 25, 10:20pm: The Nuggets filed the paperwork to decline their team option late Monday night, Adrian Wojnarowski of ESPN tweets. That clears the way for Jokic to sign what will likely be a five-year max contract next month, Wojnarowski adds.
JUNE 25, 2:19pm: The Nuggets have officially extended a qualifying offer to Jokic, per RealGM's transactions log. That's a signal that the club has formally turned down his option.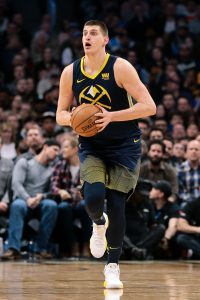 As we heard earlier today, Jokic and the Nuggets are expected to finalize a five-year, maximum-salary contract once free agency begins.
JUNE 24, 1:50pm: In a story primarily regarding the decision of Wilson Chandler to exercise his player option with the Nuggets for the 2018/19 season, Gina Mizell of The Denver Post is reporting that a league source says Denver will decline the $1.6MM team option for franchise big man Nikola Jokic.
By declining the option, the Nuggets will make Jokic a restricted free agent eligible to sign a maximum-salary contract with Denver this summer – something that Jokic's camp has been jockeying for since early-May (link).
The reported declination, while substantial, really comes as no surprise, with Jokic's agent telling the Nuggets earlier this year that picking up his client's 2018/19 option would hinder Denver's chances of locking Jokic up long-term.
Moreover, if Denver does exercise the option, Jokic would become an unrestricted free agent next summer, leaving the Nuggets without a right of first refusal during free agency
"Nikola's going to be here for a long, long time," president of basketball operations Tim Connelly said following Thursday night's 2018 NBA draft. "I think whatever we do, we're going to ensure he's here as long as possible. When that moment happens, we're going to talk to Nikola and his brothers and his representation. He'll be in Denver for a long, long time. He'll be buying (a home) here."
Assuming the report is accurate and the Nuggets decline his option, Jokic, 23, will be eligible to sign a five-year contract worth approximately $146.45MM this summer.