Paul George has informed the Thunder that he'll turn down his player option for 2018/19 and will become an unrestricted free agent on July 1, reports ESPN's Adrian Wojnarowski.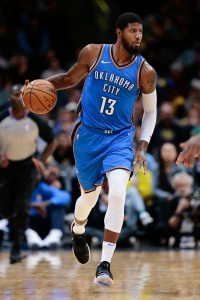 The move had long been anticipated. While it might make sense in some cases for veterans to opt into the final year of their contracts, George's $20,703,384 option salary is far below his projected $30MM+ maximum salary, so picking up the option would have made little financial sense.
Additionally, the Lakers and Thunder are widely considered the frontrunners to land George. Los Angeles will have the cap space to sign George outright, while Oklahoma City has his Bird rights and can go over the cap to sign him. As such, exercising the option to facilitate a trade was always a long shot for the star forward.
While the Lakers and Thunder are the most serious contenders for George, the Rockets and Sixers are interested in pursuing him too, sources tell Wojnarowski. The Cavaliers were also previously said to be interested in George. However, his option decision will make it tricky for over-the-cap teams like Houston and Cleveland to land him, since those teams don't have easy paths to cap room, and a sign-and-trade deal would only be permitted if they're willing to remain below the tax apron ($6MM above the tax line) all season.
George is eligible to sign a five-year contract worth a projected $175MM+ with the Thunder this offseason, or a four-year deal worth approximately $130MM with a rival suitor like the Lakers. The five-time All-Star may ultimately sign a one-plus-one contract (a two-year deal with a player option) though, since doing so would allow him to reach free agency again in 2019, when the cap is projected to increase to $108MM.
Photo courtesy of USA Today Sports Images.