1:22pm: The Pelicans have issued a press release officially confirming that they've extended Gentry's contract through the 2020/21 season.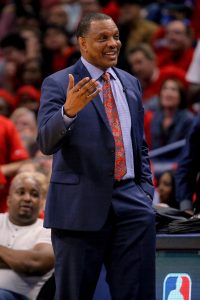 "We are thrilled to have Alvin as our head coach," Demps said in a statement. "He did a tremendous job last season. When we faced adversity, Alvin and his staff continually discovered ways to place the team in situations where we could be successful. I want to thank Mrs. [Gayle] Benson for her endless support and look forward to working with Alvin and his coaching staff as we strive to have sustained success."
7:44am: The Pelicans have reached an agreement with Alvin Gentry that will keep the head coach locked up for multiple years, league sources tell ESPN's Adrian Wojnarowski. According to Wojnarowski, the two sides agreed to terms on a two-year extension, which will keep him under contract through the 2020/21 season.
Wojnarowski reports that Gentry will receive a raise on his new deal and will get a guaranteed contract for the 2019/20 campaign. His 2020/21 deal will be performance-based, Woj adds.
Gentry, a veteran head coach who took the reins in New Orleans in 2015, only won 64 games in his first two seasons with the club. However, the Pelicans took a major step forward in 2017/18, posting a 48-34 mark and knocking off the higher-seeded Trail Blazers in a first-round playoff sweep.
While Gentry's overall record with the Pelicans remains a modest 112-134 (.455), his job looks far safer for the foreseeable future than it did a year ago, when there was speculation that the team could replace Gentry and/or GM Dell Demps. The Pelicans rewarded the organization's patience with its best performance since the Chris Paul era.
The Pelicans' strong season ensured that the franchise exercised its fourth-year option on Gentry for the 2018/19 season back in April. However, the new agreement will give him even more security, locking him up for the next three seasons.
New Orleans will look to take another step forward next season, but faces some roster-building challenges this offseason, with DeMarcus Cousins headed for free agency and no cap room available. Fortunately, franchise cornerstones Anthony Davis and Jrue Holiday remain under team control for multiple years.
Photo courtesy of USA Today Sports Images.