The Sixers and president of basketball operations Bryan Colangelo have agreed to part ways, reports ESPN's Adrian Wojnarowski (Twitter links). According to Wojnarowski, the club will hold a news conference this afternoon with team ownership to discuss the move. The Sixers have issued a press release officially confirming the decision.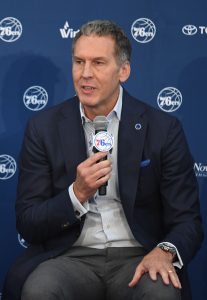 While Philadelphia's announcement classifies Colangelo's departure as a resignation, he won't be leaving his post in Philadelphia entirely of his own accord. The veteran executive found himself mired in controversy last week after a report from Ben Detrick of The Ringer linked five "burner" Twitter accounts to Colangelo.
Of those five anonymous Twitter accounts – which were strikingly similar in terms of content, tone, follows, and likes – four seemingly shared inside information on the 76ers and tipped team strategy. They also criticized current and former Sixers players, including Markelle Fultz, Joel Embiid, Jahlil Okafor, and Nerlens Noel, and defended Colangelo's track record with the franchise.
After Detrick sent an inquiry to the Sixers asking about two of the five accounts, Colangelo issued a statement claiming ownership of one of them, which had never posted a tweet, denying knowledge of the other. Simultaneously, the three other accounts – which Detrick didn't mention in his inquiry to the Sixers – went dark, switching from public to private.
The Sixers hired Paul, Weiss, Rifkind, Wharton & Garrison LLP to investigate those Twitter accounts, and the law firm issued a statement today, confirming that Colangelo's wife Barbara was behind the tweets. The statements reads, in part:
"The evidence supports the conclusion that Ms. Barbara Bottini, Mr. Colangelo's wife, established the Twitter accounts and posted content on those accounts. When interviewed, Ms. Bottini admitted establishing and operating the accounts. Forensic evidence corroborates her admissions.
"We cannot conclude that Mr. Colangelo was aware of the Twitter accounts prior to the May 22 press inquiry. Mr. Colangelo denies any such awareness and we have not observed any forensic evidence establishing that he had knowledge of the Twitter accounts prior to that date. We note, however, that our investigation was limited and impeded by certain actions taken by Ms. Bottini, including her decision to delete the contents of her iPhone by executing a factory reset of the device prior to surrendering it for forensic review.
"Our investigation revealed substantial evidence that Mr. Colangelo was the source of sensitive, non-public, club-related information contained in certain posts to the Twitter accounts. We believe that Mr. Colangelo was careless and in some instances reckless in failing to properly safeguard sensitive, non-public, club-related information in communications with individuals outside the 76ers organization."
[RELATED: Bryan Colangelo issues statement following resignation]
Colangelo had been the Sixers' president of basketball operations since April 2016, when he was hired by the franchise to replace Sam Hinkie as the top decision-maker in the front office. With the help of the groundwork laid by Hinkie, Colangelo continued to shape the roster over the last two years by adding a pair of No. 1 picks in Ben Simmons and Fultz, along with veteran free agents like J.J. Redick and Amir Johnson.
The Sixers returned to the postseason this spring for the first time since 2012 and won a first-round playoff series over the Heat before being eliminated by Boston. The club is well positioned to make some noise in free agency this summer, with significant cap room available.
According to the Sixers, head coach Brett Brown will take over as the club's head of basketball operations on an interim basis as the 2018 free agent period nears. Brown and new lead assistant Monty Williams are expected to play key roles in recruiting potential targets. However, Brown won't run the front office permanently. The team indicated in today's announcement that the search for a new general manager will begin immediately.
While many Sixers fans will clamor for the return of Hinkie, former Cavaliers GM David Griffin could be a more logical and realistic candidate to replace Colangelo, given Philadelphia's reported interest in top free agent LeBron James. While there's no confirmation yet that the 76ers will reach out to Griffin, Chris Mannix of Yahoo Sports (Twitter link) calls it a "no-brainer" for the team.
Photo courtesy of USA Today Sports Images.