The Suns picked up their center of the future by taking Arizona's Deandre Ayton with the first selection in tonight's draft.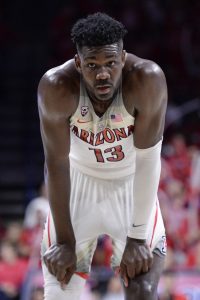 The 19-year-old out of the Bahamas has been projected as the top pick for several weeks now, separating himself from the field with a strong performance during his freshman year with the Wildcats. Standing 7'1″, Ayton was dominant in the collegiate ranks, averaging 20.1 points, 11.6 rebounds and 1.9 blocks per game.
Confident that he would be the overall top choice, Ayton conducted his only pre-draft workout for the Suns. Phoenix also brought in Duke's Marvin Bagley III, Texas' Mohamed Bamba and Michigan State's Jaren Jackson Jr. at various times during the process, but the assumption all along has been that Ayton would be the pick.
The selection of Ayton kicks off what could be a very busy night for the Suns. They also hold pick No. 16, although they have reportedly been trying to trade up in hopes of acquiring one of the draft's top-rated point guards in Trae Young, Collin Sexton or Shai Gilgeous-Alexander.
Phoenix also has picks No. 31 and 59 in the second round.
Photo courtesy of USA Today Sports Images.