Most of the players on our list of the top 50 free agents of 2018 have found deals during the first 10 days of July. Of the top players who remain unsigned, many are restricted free agents who have been unable to secure lucrative offer sheets, such as Clint Capela, Jabari Parker, Marcus Smart, and Rodney Hood.
However, there are still a number of intriguing unrestricted free agents on the board. These players could be signed outright by teams looking to fill holes on their roster, though it's unlikely that any of them are in line for significant paydays at this point in free agency.
With the help of our full list of available players, here are 15 notable names to watch during the current wave of free agency:
Isaiah Thomas, PG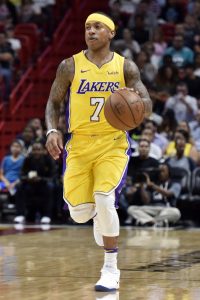 After putting up MVP-type numbers in 2016/17, Thomas battled hip issues and failed to make a major impact for the Cavaliers and Lakers last season. He claims he's fully healthy now, but teams still appear hesitant to invest in the standout scorer.
Shabazz Napier, PG
Napier enjoyed a breakout year for the Trail Blazers in 2017/18, establishing new career-highs in PPG (8.7), RPG (2.3 RPG), SPG (1.1), 3PT% (.376), and several other categories as the first guard off Portland's bench behind Damian Lillard and C.J. McCollum.
Jamal Crawford, G
Linked to the Warriors, Sixers, and Wizards – among other contenders – early in free agency, Crawford has yet to find a home. And those three teams, at least, no longer have exception money available to offer him more than the minimum.
Wayne Ellington, SG
Perhaps the most surprising name on the list of available players, Ellington made 2.9 three-pointers per game last season at a 39.2% clip, and is still just 30 years old. It's a little unexpected that less accomplished shooters like Doug McDermott and Mario Hezonja have secured deals in the $6-7MM-per-year range while Ellington is still unsigned.
Dwyane Wade, SG
Like fellow free agent Dirk Nowitzki, who we didn't include on this list, Wade is only technically available. In actuality, if he decides to continue to career, it will almost certainly be with the Heat.
Nick Young, G/F
A Monday report indicated that Young has received interest from the Kings, Grizzlies, Rockets, Cavaliers, Jazz, and Timberwolves, among others. The money, role, and odds of contending those teams can offer vary significantly, so we'll see what Young's priorities are after winning a title in Golden State.
Corey Brewer, G/F
Brewer was a key part of the Thunder's rotation after joining the team late in the 2017/18 season. However, clubs considering him this offseason are probably skeptical that he can replicate the .359 3PT% he posted in 24 regular season and playoff games with Oklahoma City.
James Ennis, SF
The Pistons, Sixers, Rockets, Nets, Pelicans, and Timberwolves were said to have interest in Ennis last week, but some of those teams have addressed their wing and frontcourt needs since then.
Treveon Graham, SF
The Hornets' decision not to tender a qualifying offer to Graham, a 24-year-old wing who made 41.2% of his three-pointers, was somewhat surprising. He's generating interest and should find a home on an NBA roster.
Michael Beasley, F
When the Knicks opted to sign Mario Hezonja, it essentially closed Beasley's path to returning to New York. Beasley poured in 13.2 PPG in just 22.3 MPG last season off the bench, so he should appeal to a club in need of a scoring punch off the bench.
Trevor Booker, PF
Booker's lack of an outside shot limits his value in the modern NBA, so he certainly won't match the $9MM+ salary he earned in 2017/18. He'd make a solid third or fourth frontcourt piece for a lot of teams around the NBA though.
Dante Cunningham, PF
While stretch fours like Ersan Ilyasova, Anthony Tolliver, and Nemanja Bjelica found homes last week, Cunningham remains available. He'll likely will have a more modest price tag than those other veteran forwards.
Alan Williams, F/C
A meniscus injury kept Williams sidelined for nearly all of the 2017/18 campaign and may be diminishing his market this summer. If he's healthy though, Williams is one of the league's best rebounders — he has averaged 15.0 boards per 36 minutes over the course of his NBA career.
Alex Len, C
Another former Suns big man who finds himself without an NBA home, Len can provide some rebounding and rim protection for a team in need of a backup center. If he's seeking a starting role somewhere, the five-year veteran may have to wait for a team to get hit with the injury bug.
Greg Monroe, C
Monroe posted decent per-minute numbers in Milwaukee, Phoenix, and Boston last season, averaging 10.3 PPG and 6.9 RPG in just 20.4 minutes per contest. But he's a low-post scorer in a league that doesn't place a ton of value on that skill these days — he wasn't a major part of the Celtics' rotation in the playoffs.
Photo courtesy of USA Today Sports Images.