The Cavaliers have insisted all offseason that they don't intend to trade Kevin Love, and now they've doubled down on that position, locking up the All-Star forward to a long-term contract. According to ESPN's Adrian Wojnarowski and Brian Windhorst, Love has signed a four-year, $120MM extension with the Cavs. The club has confirmed the deal in a press release.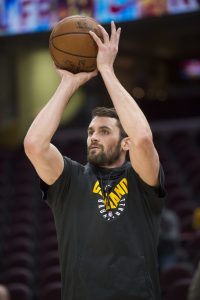 "When I first came to Cleveland, I came with a long-term mindset," Love said in a statement. "I came here to win. We developed a culture here that reflects that. I'm super excited and I couldn't be happier. It's a big commitment for me and it's a big commitment from the Cavaliers, so I want to thank Dan Gilbert, Koby Altman and the entire organization. I enjoy playing here, I'm excited about the team that we have and look forward to our future together."
As part of the agreement, Love has declined his player option for 2019/20, with the first year of his new deal replacing that option. Factoring in the final year of his current contract, which will pay him $24.12MM in 2018/19, the veteran big man is on track to earn nearly $145MM over the next five seasons. The extension won't include a player option or a no-trade clause, per Joe Vardon of Cleveland.com.
Love, who joined the Cavaliers shortly after LeBron James returned to Cleveland in 2014, has averaged 17.1 PPG and 10.0 RPG during his four years with the franchise. Although he earned a pair of All-Star nods during those seasons, he was never the centerpiece of the Cavs' offense the way he was in Minnesota, when he averaged 23.5 PPG and 13.7 RPG in his last four years with the Timberwolves.
The Cavs' new deal for Love, which will run through 2023, looks like a bet on him recapturing his Wolves form – at least to some extent – now that he no longer has to take a back seat to James and Kyrie Irving. While an increasing salary cap will make the contract more manageable in future seasons, it's still a significant investment in a player who will turn 30 in September and will be 34 by the end of the deal.
Following James' departure from Cleveland earlier this month, the Cavs insisted both publicly and privately that trading Love wasn't in their plans, though multiple reports suggested that he wasn't untouchable either. Today's move ensures that Love will remain a Cavalier for the foreseeable future — because his deal exceeds the limit for an extend-and-trade transaction, he can't be dealt for the next six months.
An extension for Love can start at up to 120% of his 2018/19 salary, and according to Windhorst (Twitter link), it will do just that. Windhorst notes that the deal will be worth the maximum allowable amounts in the first two years before staying the same in the third year, then decreasing in the final year. It's about $8-9MM less than Love's maximum possible contract extension starting in '19/20, adds Windhorst.
Based on my calculations, that structure should result in salaries of approximately $28.9MM (2019/20), $31.3MM (2020/21), $31.3MM (2021/22), and $28.9MM (2022/23).
Photo courtesy of USA Today Sports Images.