JULY 6, 11:46am: Exum's new contract is now official, the Jazz announced on their website.
JULY 3, 5:03pm: Free agent point guard Dante Exum has agreed to a three-year, $33M deal with the Jazz, tweets ESPN's Adrian Wojnarowski.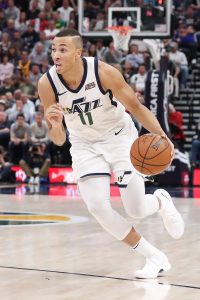 A restricted free agent, Exum has been limited by injuries through most of his career. He appeared in just 14 games last season after a preseason shoulder injury that required surgery. However, he performed well enough in the playoffs for Utah to bring him back.
Exum, who turns 23 later this month, has averaged 5.7 PPG in four years with the Jazz. He sat out the entire 2015/16 season after tearing his left ACL.
Having entered the offseason intent on keeping their own free agents in the fold, the Jazz have now accomplished that goal. Before reaching a deal with Exum, they also agreed to terms with restricted free agent point guard Raul Neto and unrestricted big man Derrick Favors. Neto and Favors will each sign two-year contracts with non-guaranteed second years.
With the new deals for Favors, Neto, and Exum taken into account, Utah's projected team salary is up to about $122MM, putting the team very close to the $123.7MM tax line. However, the Jazz could create a little more breathing room by waiving non-guaranteed players like Ekpe Udoh, David Stockton, and even Jonas Jerebko, which could generate the flexibility necessary to use their mid-level exception.
Photo courtesy of USA Today Sports Images.