10:00am: Bjelica has elected to return to Europe for the 2018/19 season rather than signing with the Sixers, according to Keith Pompey of The Philadelphia Inquirer (Twitter link). Philadelphia will now have its $4.449MM available to use on another player.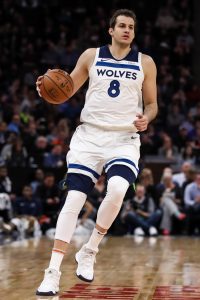 9:47am: Having used up all their cap space, the Sixers are now in position to finalize their agreement with Nemanja Bjelica with their room exception. Philadelphia and Bjelica agreed to terms on a one-year, $4.449MM deal earlier this month.
However, according to Nikos Varlas of Eurohoops.net, the 76ers and Bjelica have yet to complete that deal, and there's still a belief among EuroLeague teams that the veteran forward could be lured away from his verbal agreement with Philadelphia. Jon Krawczynski of The Athletic confirms as much, tweeting that "with a young family," Bjelica is "looking at all of his options."
As Varlas suggests, Bjelica had expected a more lucrative and longer-term contract than the one he agreed to with the Sixers. In a recent conversation with Darren Wolfson of 1500 ESPN, Timberwolves owner Glen Taylor said that the Serbian forward had been seeking a multiyear deal from Minnesota before the team withdrew its qualifying offer. Taylor added that the one-year contract Bjelica agreed to with the Sixers was worth less than what the Wolves had offered.
European teams can't match NBA clubs in terms of overall spending power, but Bjelica – a former EuroLeague MVP – would represent a major acquisition. As such, it's possible a EuroLeague powerhouse would be willing to give him a longer-term contract that would be worth more total money than his Sixers deal.
It's not clear how seriously Bjelica is weighing a return to Europe, or whether the Sixers gave him their blessing to consider other options. It wouldn't be a surprise to see the two sides eventually finalize their agreed-upon deal, but that no longer appears to be a lock.
Photo courtesy of USA Today Sports Images.