12:43pm: The Bulls have officially announced their new deal with Parker, issuing a press release to confirm the signing. As detailed below, it's a two-year, $40MM agreement, but it's only guaranteed for the first year.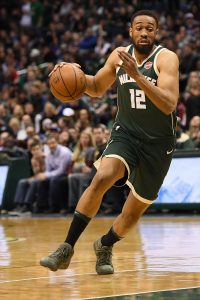 11:09am: The Bulls have agreed to a two-year, $40MM deal with Jabari Parker, who became an unrestricted free agent after the Bucks rescinded their qualifying offer, tweets ESPN's Adrian Wojnarowski. It was reported that the Bucks did not unilaterally withdraw their qualifying offer ahead of Friday's deadline, but the team did so today with Parker's consent.
Bucks general manager Jon Horst said to ESPN that the organization wasn't going to match an offer sheet and decided to let Parker negotiate a deal as an unrestricted free agent.
"Jabari and I felt it was in the best interest of both he and the team to rescind our qualifying offer, making him an unrestricted free agent," Horst said in a statement. "We appreciate everything Jabari has brought to our team and our community over the last four years and we wish him well."
While Parker was reportedly interested in joining his hometown Bulls, earlier reports suggested he wanted to return to Milwaukee. Instead, Parker departs Milwaukee for a chance to prove he can stay healthy for a full season.
"I am extremely grateful to the Bucks and the incredible fans of Milwaukee for showing me so much love and encouragement," Parker said in a statement. "Specifically, I'd like to thank Jon, Marc, Wes and Jamie for giving me my start in the NBA and supporting me throughout my career."
Parker, 23, is a former second overall pick in the 2014 NBA Draft who has shown flashes of his potential but has seen his career impacted by two ACL tears in his left knee.
After missing the start of the 2017/18 season, Parker returned to play in 31 games, averaging 12.6 PPG and 4.9 RPG in 24.0 minutes per contest. A year prior, Parker was in the midst of a career season, averaging 20.1 PPG and 6.2 RPG before tearing his ACL a second time. As Hoops Rumors wrote earlier this year, Parker is one of 97 NBA players to tear an ACL since 1970 and is one of nine players to do so twice.
With the troubled injury history, the second year of Parker's new deal with the Bulls is a team option, Wojnarowski tweets. This lowers risk for the Bulls if Parker's left knee fails to hold up and also gives him the option to pursue a long-term deal with Chicago if he can stay healthy and productive.
Since 2010, 33 players have torn their ACL and none of them have gone on to make an All-Star team after the injury. For Parker, this significant guarantee signals the chance to prove his left knee is capable of handling a full season and worth a more significant investment.
Image courtesy of USA Today Sports.