JULY 7: The Warriors have made it official, announcing that the team has re-signed Durant.
JUNE 30: Kevin Durant will inform the Warriors tonight that he prefers a one-year contract with a player option for 2019/20, tweets Marc Stein of The New York Times.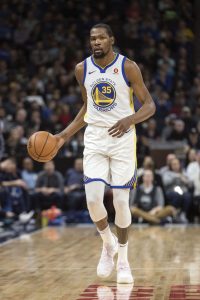 Durant intends to sign a contract for those terms sometime after the moratorium ends, according to ESPN's Chris Haynes (Twitter link). It will provide the maximum that Durant can receive on a one-year deal based on his 2017/18 salary, giving him $30MM next season with a $31.5MM option for 2019/20 (Twitter link).
The move saves some money next season for the Warriors, who will be well into the luxury tax, and it sets Durant up for a possible five-year contract with full Bird Rights next summer, when the cap is projected to rise to $109MM.
Golden State currently holds Early Bird rights on Durant, which would permit him to sign for a salary starting at $35,654,150. However, an Early Bird contract can't span fewer than two guaranteed years, so the team will have to use his Non-Bird rights to honor Durant's request. That will mean a 20% increase, taking him from $25MM to $30MM.
That savings of about $5.6MM will be huge for the Warriors, who face a significant tax bill for every dollar they spend. They may now be more inclined to use their taxpayer mid-level exception, which starts at $5.337MM.
Photo courtesy of USA Today Sports Images.