11:02pm: The signing is official, per team press release.
JULY 23, 7:11pm: The second year of the contract is not guaranteed, Tim McMahon of ESPN tweets.
JULY 20, 3:04pm: The Kings and free agent guard Yogi Ferrell have reached an agreement on a deal, reports Shams Charania of Yahoo Sports (Twitter link). Ferrell had initially agreed to a two-year contract with the Mavericks, but backed out of that agreement earlier today.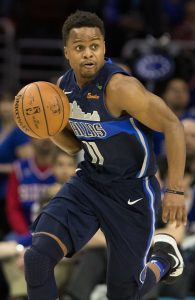 "We felt uncomfortable and will weigh our options," Ferrell's agent Cervando Tejeda told Charania at the time.
Sacramento's deal with Ferrell will be worth $6.2MM over two years, according to Charania (Twitter link). His initial two-year pact with Dallas was said to be worth $5.3MM, with only the first season guaranteed.
While it's not clear whether Ferrell's new deal with the Kings will be fully guaranteed, it passes an important threshold — the 25-year-old received a $2.9MM qualifying offer last month, which made him a restricted free agent until the Mavericks withdrew it. His contract with the Kings will allow him to exceed that figure in 2018/19, whereas his initial deal with Dallas wouldn't have.
Ferrell, a former Indiana standout, appeared in all 82 games for the Mavs last season, averaging 10.2 PPG, 3.0 RPG, and 2.5 APG with a .426/.373/.796 shooting line. In Sacramento, he figures to slot into a backcourt that features De'Aaron Fox, Buddy Hield, Frank Mason, and Ben McLemore. Bogdan Bogdanovic may also see time at the two.
Nemanja Bjelica, the only other free agent to back out a verbal agreement this offseason, as far as we know, was also said to be discussing a possible deal with the Kings. It's probably no coincidence that both Ferrell and Bjelica gravitated to Sacramento as they sought larger paydays — as we outlined earlier this afternoon, the Kings have much more cap flexibility for 2018/19 than any other team. Ferrell's new deal will only use up a small amount of their $20.5MM in cap space.
Photo courtesy of USA Today Sports Images.