JULY 20, 7:48am: Ferrell has reportedly reversed course on his agreement with the Mavs and opted to re-enter free agency. We have the full story here.
JULY 19, 11:50am: Yogi Ferrell will return to the Mavericks on a two-year deal worth $5.3MM, reports Shams Charania of Yahoo Sports. The second season will be non-guaranteed with a July 7 trigger date, Charania adds.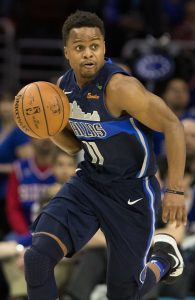 Dallas will use Ferrell's Early Bird rights, tweets salary cap expert Albert Nahmad, with the first season paying him less than the $2.9MM qualifying offer the team rescinded last week. That will enable the Mavericks to keep all of their roughly $6MM in cap space.
The Mavericks promised to give Ferrell the backup shooting guard spot at the start of the season, according to Charania. Dennis Smith and Luka Doncic, the team's first-round picks the past two seasons, are expected to be the starters in the backcourt.
Dallas signed Ferrell to a 10-day contract in January of 2017 after he was waived by the Nets. He averaged 11.3 points in 36 games, then played all 82 contests last season, posting a 10.2/3.0/2.5 line.
Ferrell went undrafted out of Indiana in 2016 and spent much of his time in the G League after signing with Brooklyn, appearing in just 10 games for the Nets.
Photo courtesy of USA Today Sports Images.