JULY 6: The Lakers have officially re-signed Caldwell-Pope, the team announced today in a press release.
JULY 1: The Lakers will re-sign Kentavious Caldwell-Pope, Chris Haynes of ESPN reports. The news comes less than an hour after it was revealed that they'll be inking LeBron James as well. James and Caldwell-Pope are both represented by agent Rich Paul and the Klutch Sports Group.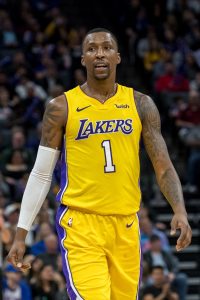 In a subsequent tweet, Haynes added that the deal for Caldwell-Pope will be a one-year pact worth $12MM. That's $6MM less than the one-year contract the two parties agreed on last summer.
Caldwell-Pope, 25, joined the Lakers last summer after spending the first four years of his NBA career in Detroit. The 6'5″ shooting guard enjoyed his best season as a shooter last year, setting new career highs in FG% (.426) and 3PT% (.383). He averaged 13.4 PPG, 5.2 RPG, 2.2 APG, and 1.4 SPG in 74 games (all starts).
Caldwell-Pope, who complements his ability to make three-pointers with strong perimeter defense on the other end of the floor, will return to Los Angeles after apparently seeing interest from a number of teams, including the Grizzlies and Clippers.
Adding Caldwell-Pope's new $12MM deal to James' max contract significantly reduces the Lakers' available cap room. With Luol Deng's $18MM salary and Julius Randle's $12MM+ cap hold on their books, the Lakers are essentially capped out after committing $47MM+ to LeBron and KCP. However, the team could re-open space by renouncing Randle and trading or stretching Deng.
The Lakers could get up to about $23.6MM in cap room by renouncing Randle and stretching Deng. Renouncing Randle and trading Deng for no incoming salary would result in $30MM+ in space. Keeping Randle's cap hold on the books and stretching Deng would open up about $12MM.
Luke Adams contributed to this post. Photo courtesy of USA Today Sports Images.